Celebrating over 60 years of unparalleled excellence in visual arts programming, the Quinlan Visual Arts Center is north Georgia's premier arts organization.
Whether you are an artist, art appreciator, instructor, collector, or simply a student, the Quinlan Visual Arts Center is THE place to nurture your creativity in northeast Georgia.

From humble origins as a sketch club and founded as the Gainesville Art Association in 1946, the Quinlan has grown into a well-respected regional arts organization known for its commitment to quality visual arts programming and educational opportunities.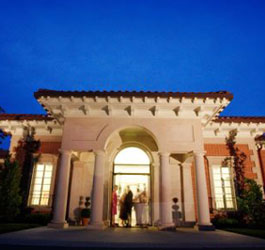 In 1955, Leslie F. Quinlan deeded the land for the center, "not as a gift, but as an investment in the cultural future of the community." Renovated and expanded in 2004, the center is today known for its commitment to excellence, quality programming and educational opportunities for all ages and all stages of artistic development.

There are at least at least seven major exhibitions annually. Workshops are instructed by nationally and internationally recognized artists. A quarterly class is offered with courses in all media for both children and adults. There are summer art camps for kids. Visit the museum-quality gift shop featuring original art created by local artists. Check out the special community events.



Open:

Mon - Fri at 9 am - 5 pm and Sat 10 am - 4 pm.



Amenities:

Restrooms, Accessibility for mobility-impaired and Party Facilities.

Free admission and parking.





Phone:

770-536-2575 –

Address:

514 Green St., Gainesville Georgia 30501 - Quinlan Arts Center Website


Print a NE GA Mountains Travel Region Map
NE GA Mountains Fun:

Festivals & Events

Free Indoor Activities


Free Outdoor Activities

Tourist Centers

Travel Region Info