Pulaski Square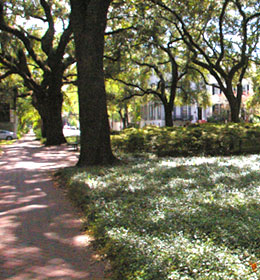 This square on Barnard Street between Harris and Charlton Streets was laid out in 1837. It was named for Count Casimir Pulaski, the highest ranking foreign officer to die in the American Revolution.

The red brick Jewish Education Alliance building on the East side of the square is now a dormitory for the Savannah College of Art and Design.

The house on the Northwest corner of Barnard and Harris is new housing, completed in 1993.

The house across from it is the 1839 house of Francis Bartow, a Confederate hero. It is now several apartments.
Reynolds Square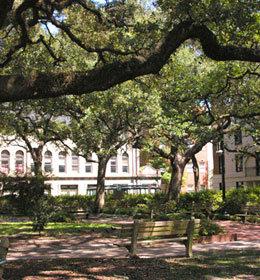 Located on Abercorn Street between Congress and Bryan Streets, this square was named for James Reynolds, a Georgia Royal Governor.



John Wesley Monument


The John Wesley Monument in the center of Reynolds Square was erected by the Methodists of Georgia in in 1969 by the John Wesley Monument Committee. It is on the site where his home and gardens are believed to have been. It depicts Wesley at age 33 in a preaching stance. It is of black marble and was done by Marshall Daugherty, a professor at Mercer University in Macon.

It consists of a stepped and blocked rectangular granite pedestal, inscribed on all sides, supporting abronze statue of John Wesley.

John Wesley is the founder the Methodist Church. Wesley came to Savannah in 1736 as an Anglican clergyman to the Colony of Georgia. Returning to England in 1738, his stay in Savannah was short. inspired by his associations with Moravians in Georgia and later in England, he revised his ideas and eventually formed the United Societies, a Protestant sect which evolved into the Methodist Church. In Savannah, Wesley resided near Reynolds Square. The Wesley Monumental Church, located on the periphery of Reynolds Square, is named in his honor.
Telfair Square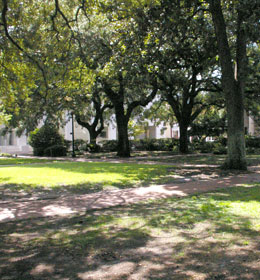 From 1733 to 1883, this square was named St. John's Square and was one of the most fashionable residential areas.

It was renamed to honor Edward Telfair, three time governor of Georiga (1786-1792) and his family.

The Telfair family home, now the Telfair Academy of Arts and Sciences is one of the oldest art museums in the South. The Trinity Methodist Church and the Federal Buildings which were completed in the 1980s are on this square.

It is located on Barnard Street between York and State Streets.
See more Savannah Squares.
Loading


Colonial Coast GA Travel Region Printable Map

GA Coast & Islands Fun:

Festivals & Events

Free Outdoor Activities

Tourist Centers

Travel Region Info