One of the popular places to visit in Hinesville is 1882 the Old Liberty County Jail. This attraction contained all the modern conveniences- running water, inside plumbing and fireplaces.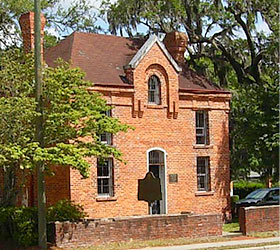 The county used this jail until 1972. While this building was not Liberty County's first jail, it served longer than any previous jail.

Although there is no record of its construction or its architect, it is known that the contractor, a Mr. Parkhill, had completed the two-story, three-bay brick structure by October 1892.

The interior of the jail is divided by a brisk wall into two sections housing (or drunk tank) and two cells downstairs and two cells and the upper part of the bull-pen upstairs.

A new county jail was opened in 1969 and the Old Jail was sold at auction on March 3, 1970 to the Liberty County Historical Society, which eventually donated the building to the City of Hinesville GA.

The Old Jail is now on the National Register of Historic Places.

When it was built in 1892 the jail had "all the modern improvements and conveniences of a first class prison. Eighty years later it was condemned by Georgia Governor Lester Maddox as "a rotten, filthy rathole."



Amenities:

Parking and Public Restrooms.

Free tours.

Call Monday through Friday from 9 am - 5 pm for tours.
Old County Jail Historical Marker Info


While this building was not Liberty County's first jail, it served longer than any previous jail. When it was built in 1892 the jail had "all the modern improvements and conveniences of a first class prison." Eighty years later it was condemned by Georgia Governor Lester Maddox as "a rotten, filthy rathole."

Although there is no record of its construction or its architect, it is known that the contractor, a Mr. Parkhill, had completed the two-story, three-bay brick structure by October 1892.

The interior of the jail is divided by a brisk wall into two sections housing (or drunk tank) and two cells downstairs and two cells and the upper part of the bull-pen upstairs.

A new county jail was opened in 1969 and the Old Jail was sold at auction on March 3, 1970 to the Liberty County Historical Society, which eventually donated the building to the City of Hinesville. The Old Jail is now on the National Register of Historic Places.

Erected 1998 by the Liberty County Historical Society"



Free admission and parking.





Phone:

912-877-4332 -

Address:

302 S Main St., Hinesville Georgia 31313


Georgia Coast-Islands Travel Region Printable Map

Visit:

NPS Coast and Islands

Georgia Coast - Islands

GA Coast Events

Coast Free Things To Do

GA Coast Fishing Lakes

Georgia Coast Museums

Georgia Coast Shopping

GA Coast and Islands Map & Travel Region