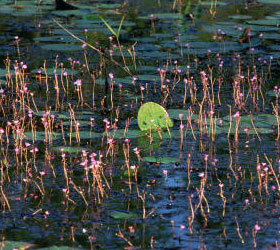 Reservation Hotline - 912-496-3331


Hours

: Monday thru Friday 7:00am EST - 10:00am EST

Camping overnight in the Okefenokee NWR is allowed only with a permit, which is issued through the refuge office near Folkston, GA. Reservations can be made only up to two months to the day your trip begins. To make a reservation, call (912) 496-3331 between 7 am and 10 am, Monday through Friday (excluding federal holidays). Reservations can be made only by phone; no walk-in registrations will be accepted. After 10 am, you may request information by calling 912-496-7836, but reservations will not be taken. Groups are limited to 20 people. During the months of March and April, no permits longer than 2 nights will be issued.



After your reservation is taken:


The non-refundable fee of $10.00 per person per night (example: 4 people x 2 nights x $10 = $ 80) must be in our office within 16 calendar days of making your canoe reservations. (Example: Fees for a reservation made on November 14th must be in our office by November 30th.)


Cashier's, certified or personal checks and money orders must be made payable to:

U.S. Fish & Wildlife Service. Paddlers with a valid overnight permit are not required to pay the $5 per vehicle entrance fee.

When payment is received, the trail permit will be mailed. Read the permit, sign both copies, keep the original (white copy) and immediately mail the yellow copy to the following address: Okefenokee National Wildlife Refuge, Route 2, Box 3330 - Folkston, GA 31537

Due to seasonal peak use of trails and limited availability, during March and April, trip lengths are limited to 2 nights. These restrictions allow more individuals the opportunity to enjoy the area during this popular time of year.
Admission Fees
Okefenokee NWR Fees
Contact & Locations
Phone:

404-679-4000 -

Call

912-496-7366 for more photography information.

The Okefenokee Swamp is located in Ware, Charlton, and Clinch Counties, Georgia and Baker County, Florida.



There are five entrances to the Okefenokee National Wildlife Refuge:


East Entrance - Camp Cornelia, Suwannee Canal (USFWS).
Secondary East Entrance - Kingfisher Landing (USFWS).
West Entrance - Stephen C. Foster State Park (USFWS and State of Georgia).
Secondary West Entrance - Suwannee River Sill (USFWS).
North Entrance - Okefenokee Swamp Park (Non-profit organization).
Loading
More Okefenokee Info

General Info

ADA Accessability

Okefenokee NWR Wildlife Observations

Okefenokee NWR Hunting

Okefenokee NWR Fishing

Okefenokee Photography

Okefenokee Boating & Canoeing

Okefenokee Hiking Trails

Okefenokee Reservations

GA Coast & Islands
Printable Map