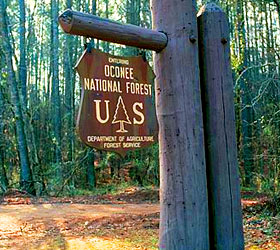 This 60-acre, 100-year-old forest park features features 1.5 miles of walking trails, a 15-acre lake, off-leash dog area, ponds, bird-watching, educational kiosks, a pavilion and a garden. It is home to the largest scarlet oak in Georgia.

Oconee Forest Park on the University of Georgia campus in Athens, Georgia. The park is administered by the Daniel B. Warnell School of Forest Resources.

Oconee Forest Park provides recreation, teaching, and research opportunities for the University community while preserving its 100-year-old forest. Please contact Dan Williams at 706-542-1571 about using the park for class sessions.

Oconee Forest Park is a 60 acre natural area on the University of Georgia campus in Athens, Georgia. The park is administered by the Daniel B. Warnell School of Forestry and Natural Resources.

Open daily all day.

Free admission and parking.





Amenities:

Restrooms and Accessibility for mobility-impaired.
Oconee Forest Park has over 1.5 miles of hiking trails.

The trails guide you through the 100-year-old oak-hickory forest, along Lake Herrick shore and into areas of landscaped lawn.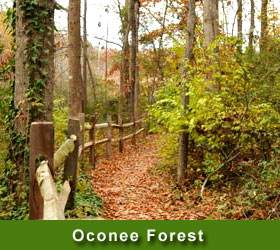 Mountain Bike Trail

- Oconee Forest Park provides a 1.2 mile mountain bike trail. Begin the mountain bike trail at the southern entrance to the park (see map) and follow the signs. The trail traverses gravel roads and single track woods trails forming a clockwise loop. Mountain bikers please respect the rights of other park visitors by avoiding park trails closed to mountain bikes. Bikers please help keep the mountain bike trail open by avoiding hiking trails closed to mountain bikes. Please visit website for map.



15-acre lake Allyn M. Herrick

named for a former School Of Forest Resources dean is open for fishing to University faculty, staff, and students (Georgia state fishing license required). Lake Herrick beach is open between Memorial Day and Labor Day each year. Call Recreational Sports Department for hours and canoe rental information at 706-542-5060.



The park's 4-sided interpretive kiosk

features a write-up on the park's history as well as information and articles about the park's plants, animals, and ecology. Nature trail brochures including the Tree Trail brochure are available here.



The park's 15-acre off-leash area for dogs

is located on the southern end of the property. It includes a 2-acre pond and a network of trails and landscaped lawns. Please help retain this last Athens off-leash facility by observing the leash rule in the on-leash part of Oconee Forest Park. Your cooperation is essential for the continued provision of this facility. Please bring water for your dog.
Handicap access

to Oconee Forest Park is provided by the A.D.A.- compliant boardwalk and bridge donated by the family of Leon A. and Eugenia C. Hargreaves. The boardwalk/bridge begins at the gravel parking lot near the tennis courts. For your safety, handicap visitors please bring a helper.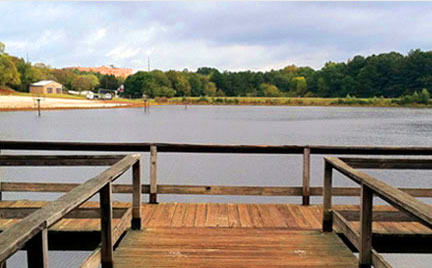 The Eugenia Calhoun Hargreaves Memorial remembers the beloved wife of the late Dean Emeritus Leon A. Hargreaves. The memorial includes the handicap accessible bridge and boardwalk as well as adjacent landscaped lawns and trails. Visitors are welcome to this memorial provided by the Hargreaves family and the Warnell School of Forest Resources.



The Tree Trail

is a series of labeled trees and shrubs located along the park's trails. Blue name tags are attached either to the tree (about 8 feet high) or to an adjacent metal pole. The tree numbers found on the brochure map mark the approximate location of each specimen and correspond to the numbered names inside the brochure.



Phone:

706-542-4287 or 706 542-1571 –

Address:

UGA Recreational Sports Complex, College Station and E. Campus Road,

Accessed via

UGA Campus Intramural Fields, College Station and East Campus Rds., Athens, GA 30602 - Visit the website for directions. Oconee Forest Park Website


Print a Historic Heartland Travel Region Map

Historic Heartland Fun:

Festivals & Events

Free Indoor Activities

Free Outdoor Activities

Tourist Centers

Travel Region Info