Ocmulgee Bluff Horse, Bike and Hike Trail System General Information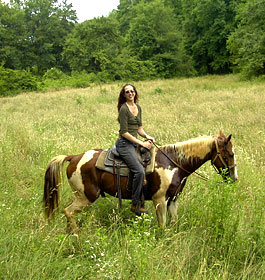 The Ocmulgee Trail System has nearly 30 miles of trails for mountain bike riding. This is a mixed use trail for horse back riding, hiking and biking. The trail generally follows the Ocmulgee River with loops and cutbacks along the way. Please be aware of other trail users. The trail head at Ocmulgee Bluff Day Use and the parking area is open. The Ocmulgee Bluff Trail System is also open for it's full length.

A re-route was created around the storm damage. This re-route has been fully blazed and painted. Amenities include picnic tables, toilets and parking. The Ocmulgee River Equestrian Trail is a compliation of several smaller trails,the Ocmulgee River Trail, Wise Creek Trail, Kennard Creek Trail, and White Creek Trail. These trails are great for day hiking. There is a fee to ride this trail. The difficulty level of this trail is moderate.



Trail amenities

include a large parking area, picnic table and grill, and a Men's and Women's vault toilet.



Horse Camping

- No camping on this trail. Dispersed primitive camping is provided at the Ocmulgee Horse Camp located on Forest Service road 1099 off of GA 83, south of Smith Mill Rd. It is approximately one mile form the Ocmulgee River crossing. This camp site has been set up to accommodate equestrian camping, high lines are provided and enough area for several trailers. This is a carry in, carry out site with no amenities provided. There is no fee required. Length of stay is limited to 14 days. This dispersed campng area can accommodate several horse trailers and vehicles.
Restrictions:

Overnight camping is not allowed at this recreation area. See info above for a dispersed campground nearby. OHV's are not allowed.



Open Dates:

All year from sunrise to sunset.



Parking:

Parking for a large number of vehicles and trailers is available.



Fees and/or Pass:

$5 fee per day per rider. The Chattahoochee-Oconee Annual Forest pass is accepted here. This pass can be purchased at any Ranger District office for $25. The Interagency Senior and Access Passes and the Golden Age and Access Passports are accepted. These passes entitle the pass holder to a 50% discount on user fees.



Closest Towns:

The nearest town is approximately 10 miles, or 15 minutes, northeast in Monticello, GA. Here riders will find restaurants, grocery stores, etc.



Water:

None -

Restroom Facilities:

Men and Women's Vault Toilet
Contact, Directions & GPS Location
USDA Forest Service, Oconee Ranger District

-

Phone:

706-485-7110


Address:

1199 Madison Road, Eatonton, GA 31024 -

Office hours:

Monday - Friday at 8 am until 4:30 pm

Approximately 60 miles southeast of Atlanta, the Oconee National Forest is an easy drive and has much to offer those in the heart of the state. Boasting group campsites, the largest lake in the state, and recreational opportunities galore, the Oconee District is one not miss.



Chattahoochee-Oconee National Forests

-

Phone:

770 297-3000


Address:

1755 Cleveland Highway, Gainesville, GA 30501


Office hours:

Tuesday - Friday at 9 - 12 & 1-4 - Closed Saturday, Sunday, and Monday



Directions to Trail from I-75

- From I-75 exit 187 in Forsyth GA, take GA 83 northeast towards Monticello GA for approximately 15 miles to the intersection of Smith Mill Rd. Turn left onto Smith Mill Rd. and travel approximately 3 miles on a gravel road to the entrance to the trail head on the left.



Directions From Monticello GA -

Travel approximately 10 miles southwest towards Forsyth GA on GA 83 to Smith Mill Rd. on your right and travel approximately 3 miles on a gravel road to the entrance to the trail head on the left.



Ocmulgee Bluff Horse, Bike and Hike Trail System GPS Location -

Latitude is 33.209320 and Longitude is -83.816465.
Georgia US Forest Areas

Camping

Hiking

Horseback Riding Trails

Fishing

Canoe Trails

GA US Forest Wilderness

Wilderness Preparation

Canoe Safety Tips

Forest Safety Tips

GA U S Forest History