The thrill of driving off road vehicles over mountainous terrain and trail systems, equals the Oakey Mountain OHV recreation area.
Oakey Mountain OHV Trails General Information
Oakey Mountain OHV Trails area length is 9.2 miles. A steep (up to 35% grade) and rocky two-way trail with many blind curves - Oakey Mountain OHV trail connects to the Moates Knob trail (southern end of Oakey). Visitors will also enjoy direct access from the parking lot to the Oakey Mountain OHV trailhead. This trail is suitable for: Three-wheelers, Trail bikes and ATV's with less than 50" axle width. Please contact the Chattooga River Ranger District for the latest information on trail availability due to frequent weather contingencies at 706-754-6221 ext 134.



Permit Info:

OHV: 1-Day Permit OR $5 per operator per day.



Fees:

1-Day Permit: $5 per operator per day. Pay at site. OHV Annual Pass: $50 per operator per year. Obtain at any Forest Service Office. Camping is $10 per night.

The Chattooga River Ranger District covers 261,035 acres in the northeast part of Georgia. Terrain ranges from the Piedmont in the southern part of the district to Georgia's second highest mountain, Rabun Bald at 4,696 feet above sea level. To the east is the Chattooga Wild and Scenic River. In the central part of the district are Lake Burton, Seed Lake, and Lake Rabun where you'll find the Rabun Beach Campground.

The Appalachian National Scenic Trail passes through the district. There are many waterfalls across the district including the twin waterfalls of Anna Ruby Falls Scenic Area. See vicinity and trail maps below.
Restrictions:

The consumption of alcohol while operating any type of vehicle is strictly prohibited according to State and Federal law.



Open:

Mid-March. Open sunrise to sunset. Not operational after dark.

NOTE:

The Oakey Mountain OHV Trails are closed during the winter months and open in early spring.



Closest Town:

The nearest town is approximately 24 miles, or 30 minutes, in Clayton, GA. Here campers will find restaurants, grocery stores, etc.

Drinking water is provided from two faucets. There is 1 vault facility



Passes:

OHV Annual Pass: $50 per operator per year


Operated By:

Chattahoochee Management, INC. under permit by the US Forest Service
Contact, Directions & GPS Location
USDA Forest Service, Chattooga River Ranger District office

-

Phone:

706-754-6221 -

Address:

9975 Highway 441 S, Lakemont, GA 30552 -

Office hours:

Monday - Friday at 8 am - 12 Noon and 1-4:30 pm. Closed 12 Noon - 1 pm.



Chattahoochee-Oconee National Forests

-

Phone:

770 297-3000


Address:

1755 Cleveland Highway, Gainesville, GA 30501


Office hours:

Tuesday - Friday at 9 - 12 & 1-4 - Closed Saturday, Sunday, and Monday



Directions:

From Clayton, GA take US-76 west for approximately 7 miles. Turn left onto Charlie Mtn. Rd. and go 3.6 miles. Turn right onto Bridge Creek Rd. and go 2.0 miles. Turn right onto Burton Dam Rd. and go 1.6 miles. Turn left onto Forest Service Road 161 and arrive at Oakey Mountain OVH trailhead and campground.



Oakey Mountain OHV Trails and Campground GPS Location

- Latitude is 34.78410 and Longitude is -83.55436.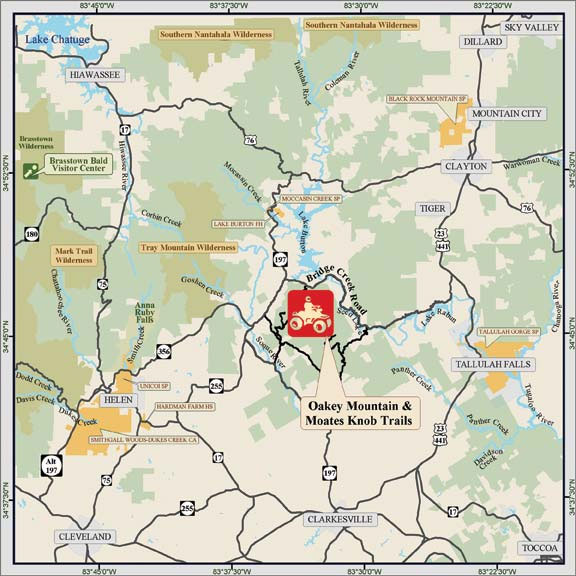 Oakey Mountain OHV Trail Vicinity Map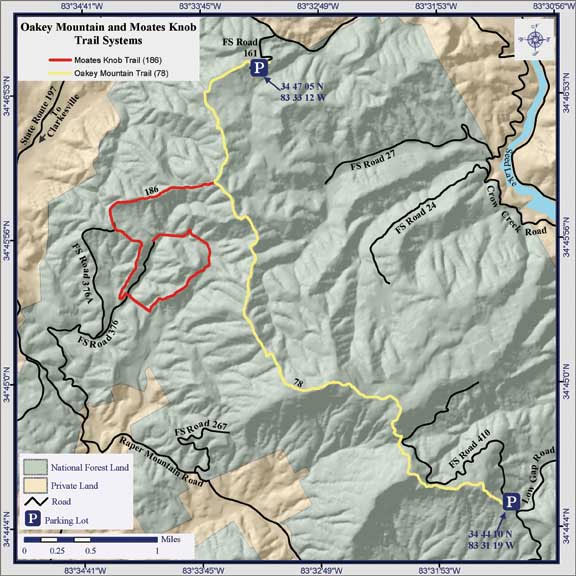 Oakey Mountain OHV Trail System Map

More GA US Forest Areas

Camping

Hiking

Horseback Riding Trails

Fishing

Canoe Trails

GA US Forest Wilderness

Wilderness Preparation

Canoe Safety Tips

Forest Safety Tips

GA U S Forest History