From ice age to space age, it is a memorial to the relationship of people and natural resources in this corner of North America. We preserved a continuous record of human life in the SE from the earliest times to the present. Its more than 12,000 years of human diversity of natural and cultural resources combined that provides an abundance of reasons to visit.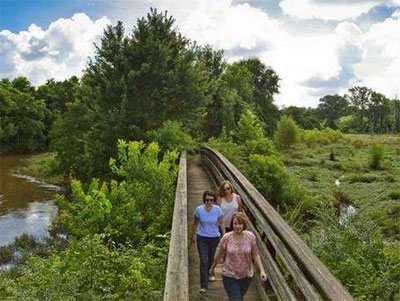 The Earth Lodge is a reconstructed council chamber or social meeting place. It was a place of both spiritual and political significance. The reconstructed walls and roof help to protect the original floor which is about 1000 years old. Earth Lodges help us to understand the politics, problem solving methods and spiritual ideas of the socities of the past. Visitors get to enter and experience this special building of the Mississippian culture.

The Great Temple Mound is situated about one half mile from the Visitor Center. The path takes you over a rail road cut and past the site of the early English trading post. Once at the Great Temple Mound you can take your class to the top and get a spectacular view of the city of Macon and Ocmulgee National Monument.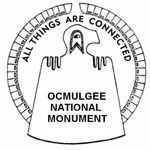 The boardwalk allows you to experience and learn about wetlands habitats. Just a short distance from the Great Temple Mound this boardwalk provides opportunities to see birds and plants of the emergent wetlands.

The Visitor Center contains two rooms of artifacts found during excavations on site. The first exhibition in the rotunda displays artifacts that cover the 12,000 years of human habitation here at the park. The back room contains artifacts that deal more specifically with the group of people who used the mounds 1000 years ago (we call them the Mississippians). At any time during your visit we can show your class a 17 minute orientation video. We can only seat about fifty students in the theater, so if your group is larger, we suggest splitting them up. While one group watches the film the other can tour the museum.

Envision the past viewing exhibits and a 17-minute movie at the Museum.


Stroll to the Earthlodge and Early Mississippian temple mounds.


Immerse yourself in a wetlands environment by taking a walk on our new boardwalk.


Walk back in time through the wilderness of the Ocmulgee River floodplain on the River Trail.


Bicycle on a quiet park road


Contemplate Georgia's "Fall Line" environment along Walnut Creek.


See Ocmulgee after dark during Lantern Light Tours in March.


Learn about Middle Georgia's history and environment during Earthday in April.


Experience the very special Ocmulgee Indian Celebration on the third weekend in September.


Take a spring or autumn Ranger-led field trip to the Lamar Mounds and Village


Browse through the Ocmulgee National Monument Association's Museum Shop.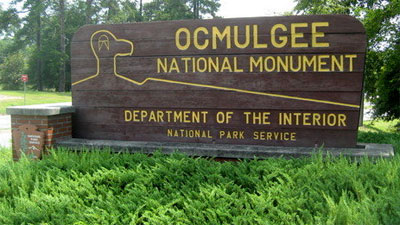 The Lamar site contains the only known example of a spiral mound in North America. This unique 20 ft. tall mound was built and used by Native people from 1350 till the late 1500's.

Mound is accessable during low water levels of the Ocmulgee River with a ranger lead tour several times a year. Call for reservations to this exciting ranger lead hike.

All of the many histories preserved here at Ocmulgee Natl. Monument have one lesson for us that we see time and again

... ALL THINGS ARE CONNECTED...



This idea reminds us of our personal connections to the natural resource of the planet Earth and all of the people who have worked to create a society back through time.
General Information

Open daily

at 8 am. to 5 pm.

Closed

Christmas (Dec 25) and New Years Day (Jan 1)



Spring

- Cool nights and warm days bring unpredictable rains and a forest filled with flowers.



Summer

-

Very hot and humid days, with lots of insects to keep you company. Bring a good hat and a water bottle to go walking.



Autumn

- Lush green fields blossom with a variety of fall colors. Birds heading south stop to visit our wetlands areas. A great season to visit.



Winter

- Sunshine warms the cold mornings providing perfect weather for a family hike. Not a mosquito to be seen! Great time of year to come for a walk in the park.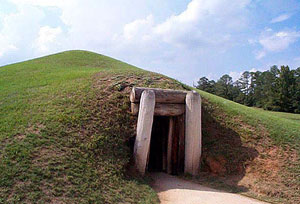 Fees & Reservations - Except for special events sponsored by the Ocmulgee National Monument Association no fees are charged to enter and visit Ocmulgee National Monument. During the special events of the Ocmulgee Indian Celebration (third weekend in September) and the spring Lantern light Tours (March) a small event fee is charged for anyone 13 years and older.

Special Use Permits are available through a permitting process. There is an application fee for a special use permit. Other charges may apply depending on the needs of the group applying for a special use permit.



Phone:

478-752-8257 -

Location:

Ocmulgee National Monument, 1207 Emery Hwy, Macon, GA 31217
Interesting Ocmulgee National Monument Facts



Ocmulgee National Monument preserves and displays a collection of archeological artifacts dating back more than 12,000 years. From early Clovis points through colonial bells and a 300 year old sword, the collection demonstrates our historic connection to all cultures from Stone Age to Space Age.

An 800 foot boardwalk lets you visit the emergent wetlands at Ocmulgee National Monument. This 10 year old wetlands was created as a result of a massive flood in July 1994. The changes in the landscape from hardwood forest to emergent wetlands is an example of natures cycles.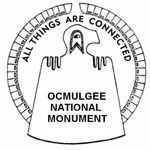 Designs like this person in a canoe show us art and views of life from the ancient past. Carved into a seashell, we wonder today if jewelry like this was just ornimentation or if perhaps each design had important symbolic meanings.

During the archeological investigations at Ocmulgee National Monument during the 1930's, Dr. Arthur Kelly and his crew of more than 800 CCC workers discovered this well preserved example of a Southeastern native Mississippian Council Chamber.

The Dunlap House is 150 years old and was built here at Ocmulgee National Monument when the land was used as a dairy farm. It is listed on the National Register of Historic Places.

Intricate and complex designs carved into sea shells were one of the many art forms of the Native people of middle Georgia 1000 years ago. Meanings and symbolism of images such as this spider reach out to us through time from these ancient artists and crafts people.
Loading

Ocmulgee Monument History & Culture:

Pre-9000 BC - 1700's

1800's

1900's to Present

Nature & Science

Field Trip Activities for Teachers & Students

Print a Travel Region Map

Historic Heartland Fun:

Festivals & Events

Free Indoor Activities

Free Outdoor Activities

Tourist Centers

Travel Region Info