Military Park History and Description
Fort Frederica's troops defeated the Spanish, ensuring Georgia's future as a British colony. Today, the archeological remnants of Frederica are protected by the National Park Service.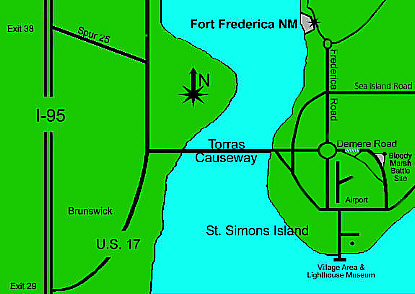 Archeology Education at Fort Frederica
Each year, over 1,000 4th grade students participate in an award-winning archeology program at Fort Frederica. This is a curriculum-based education program created and administered since 1994 by a partnership between Ft. Frederica National Monument and the Glynn County School System and Board of Education.

Teachers instruct students in the history of the 18th century fort and town of Frederica, and in the methodology of historical archeology. After a series of in-class sessions, these groups participate in an archeological dig at Ft. Frederica. The artifacts are taken to a laboratory, where the students identify and classify them. A classroom at Oglethorpe Elementary School is dedicated and equipped as an archeology laboratory.



The Bloody Marsh Unit


In 1742, during the War of Jenkins' Ear, English and Spanish forces fought in an encounter later known as the "Battle of Bloody Marsh". The origin of the name came from the marsh supposedly "running red with the blood of Spaniards". However, official Spanish records indicate that only seven grenadiers died during this battle. Due to the efforts of Lt. Patrick Sutherland of the (old) 42nd Regiment of Foot and the Highlanders from Darien, the battle was a British victory, ending the Spanish claim to Georgia.

The Bloody Marsh Unit is located on St. Simon's Island Georgia, off of Demere Road. It is open 8:30 am to 4:00 pm 7 days a week, except for Christmas Day.
Phone & Address
Phone:

912-638-3639 -

Address:

Fort Frederica NM, 6515 Frederica Rd., St. Simons Island Georgia 31522
Operating Hours, Seasons & Phone Contact
Fort Frederica National Monument:


Visitor Center open 9:00 am to 5:00 pm seven days a week
Call for updates on operating hours and emergency closures - Closed Christmas Day


Bloody Marsh Unit:


Open 8:30 am to 4:00 pm seven days a week (also closed on Christmas)
Fees & Reservations
$3 per person 16 and older, children 15 and under are free
Directions to Fort Frederica
From U.S. 17, take the F.J. Torras Causeway to St. Simons Island Georgia. At first traffic light on the island, turn left onto Sea Island Road. Go 1.5 miles to next traffic light, and turn left onto Frederica Road. Follow Frederica Road for two miles (take second right off roundabout). The park entrance is located 300 yards past Christ Church.
Interesting Fort Frederica National Monument Facts
No one knows who was buried in Frederica's burying ground, or even how many people were placed there.
Many of the British soldiers ran away from the Spanish at the "Battle of Bloody Marsh". Only seven Spanish soldiers died in that battle, so it wasn't that "bloody".
One-third of Frederica Town's original colonists left within the first five years of settlement. Many returned to England.
During the American Revolution, one of Georgia's delgates to the Continental Congress was a native of Frederica (John Houston).
In colonial times, the British government could make Georgia's residents take in British soldiers as their non-paying guest. This practice was called "quartering".
The first lighthouse built on St. Simons Island Georgia in 1810, was constructed from material scavenged from Fort Frederica.
Loading