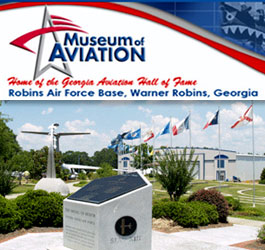 In May of 1997, the museum opened an Air Force 50th Anniversary exhibit to recognize the Tuskegee Airmen of World War II and the achievements of black Americans in aviation.

The 5,000 square-foot exhibit is called America's Black Eagles - The Tuskegee Pioneers ... and Beyond.' See the Thunderbird Exhibit, D-Day Exhibit, Transporter Motion Simulator and the Tuskegee Airmen exhibit. This year's events at this museum include the Marathone/Half Marathon/5K, Georgia Aviation Hall of Fame Banquet, Berlin Airlift Exhibit Opening, Gen. Scott Golf Tournament, Auction/Raffle/Taste of Local Cuisine, GA Invitational Golf Tournament, Wings & Wheels Car Show, Model Aircraft Contest, Planes and Trains Exhibit and Education Events.

The Tuskegee Airmen of World War II played a key role in the integration of the armed forces, and their record in combat is unequaled. This exhibit highlights the sacrifices and significant contributions they and other black Americans made to the U. S. Air Force and our nation.
Two aircraft are featured in the exhibit - a BT-13, which served as a basic flight trainer at Tuskegee Army Airfield, Alabama and an F-4C fighter representing later generations of black aviators such as General "Chappie" James, the first black to become a four-star general in the
U. S. Air Force.



Those highlighted:




Bessie Coleman, the first licensed black pilot in America.


Eugene Jacques Bullard, the world's first black military pilot.


General Benjamin O. Davis Jr., commander of the all-black 99th Fighter Squadron and the first black general in the U. S. Air Force.


General Bernard Randolph, the second black American to obtain four-star rank in the Air Force.


Lieutenant General Lloyd "Fig" Newton, the first black pilot to join the U. S. Air Force Thunderbirds and the commander of the Air Education and Training Command.
Tuskegee Airmen Achievements:


As members of the 332nd Fighter Group, they flew more than 200 escort missions during the war without losing a single bomber to enemy attack - a feat still unmatched by any air force. They also shot down more than 100 enemy aircraft and sank a German destroyer, according to the Air Force. Their showing helped end segregation in the armed forces. In July 1948, President Truman signed an executive order paving the way for integration in the military.
Amenities and Fees
Amenities:

Parking, Public Restrooms, Accessibility for mobility-impaired and Party Facilities.

Free admission to museum.

There are also free events here.
Contact - Address & Website
Phone:

478-926-6870 and toll free at 888-807-3359 -

Address:

GA Hwy. 247 and Russell Pkwy., Warner Robins Georgia 31088 Museum of Aviation Website

Print a Historic Heartland Travel Region Map

Historic Heartland Fun:

Festivals & Events

Free Indoor Activities

Free Outdoor Activities

Activities $5 & Under

Tourist Centers

Travel Region Info