Nestled in the North Georgia Mountains, this is a family owned and operated apple orchard.
General Info
Produce & More: Apples, Peaches, Blueberries, Blackberries, Nectarines, Cider, Jams, Jellies, Preserves, Sauces, Pickles, Relishes, Candles, Potpourri, Kitchen Items, Gift Items, Bakery Products and Deli. Apple types include Mutzu, Fuji, Pink Lady, Gold Rush and Fresh Citrus.

Opened in 1943 by Bill & Adele Mercier, Mercier Orchards is now celebrating 66 years of fruitful harvests. Bill, an agricultural agent, knew that the sunshine, rainfall, cold nights, and good soil of the Georgia mountains would produce the sweet, tart, juicy apples that Mercier Orchards is known for. One stop at Mercier Orchards sends your senses into overdrive.

We offer bushels of apples, fresh from the surrounding orchard. Bottles of fresh cider, jams, jellies and other gourmet treats are ready for you to take home. Share the harvest with friends and family.

Also while visiting, stop by our bakery and try a famous fried apple pie or at the deli and sample our home made pecan chicken salad. we also offer a unique variety of farm toys, pet items, kitchen paraphernalia, home decor and a meat and cheese shop.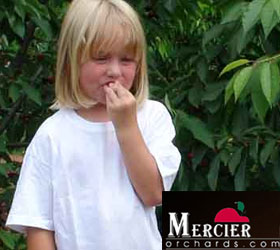 Apple season is upon us! Through October, we will be picking fresh apples every Saturday and Sunday from 10-4, weather permitting. This is a great way to not only enjoy the simple pleasure of picking your own fruit, but enjoy the fresh Fall air while you spend time with your family and friends. Our knowledgable tour guides will tell you the ins and outs of picking your own, and give you useful tips for storing and enjoying the fruits of your labor.

Pricing: Ten dollars ($10) gets one customer a peck sized bag to fill with freshly picked apples and a guided tractor tour. If you're not interested in picking, but would still love the tour the cost is $2 per person. Children 2 and under are free to ride!



Open

: Sun.-Sat.: December-May, 7am-6pm; May-November, 7am-8pm. Closed on Christmas Eve, Christmas Day, New Years Eve and New Years Day.



Phone

: 706-632-3411 -

Address

: 8660 Blue Ridge Dr., Blue Ridge, Georgia 30513 -

Directions

: 2 miles north of Blue Ridge on Hwy. 5.

Directions

: 2 miles north of Blue Ridge on Hwy. 5.

Website:

www.mercier-orchards.com



Free admission and parking.
Loading


Print a Travel Region Map
Historic High Country Georgia Activities:

Festivals & Events

Free Indoor Activities


Free Outdoor Activities

Tourist Centers

Travel Region Info
Visit

GA Farmers Markets