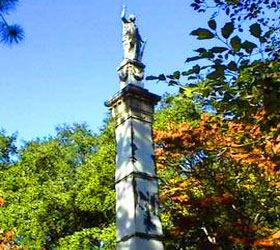 This historic cemetery was was one of the four public squares in the 1804 town plan. Aughor Flannery O'Connor and Congressman Carl Vinson are among those buried here.



Memory Hill but is a city cemetery maintained by the city of Milledgeville. The cemetery contains over 7300 identifiable graves with at least 1400 graves with no names. This cemetery is on the National Register of Historic Places as part of the historic district of Milledgeville.

Because Milledgeville was the capital of Georgia from 1807 to 1868, this cemetery contains many diverse people, both local and non-local. Legislators and statesmen from across the state of Georgia are buried here. In addition, other notable people interred in the cemetery are Flannery O'Connor (the famous author), Carl Vinson (the statesman), Edwin F. Jemison (the young Confederate soldier whose photograph is among the best-known images associated with the War Between the States), Charles Holmes Herty (a noted scientist and the University of Georgia's first football coach), Annie Abbott "the Little Georgia Magnet" (a spiritualist/magician whose real name is Dixie Haygood), and Bill Miner (known as the Grey Fox and one of the last western outlaws).
Also of historical significance are the large number of slave graves and graves of patients who were once at Milledgeville's "Lunatic Asylum," at one time the largest such asylum in the world.

Unfortunately, many of these, as well as many others, do not have grave markers or any means of identification. Sally (Sarah) Cantey Whitaker Allen (1865-1942), with the assistance of Louis Harris Andrews (1866-1944), attempted to identify unmarked graves in a directory published in 1938. Thanks to their efforts, at least some of the graves were identified and the identifications have been incorporated into this website. In 2003, through the efforts of Hugh T. Harrington, 23 of the previously unknown Confederate soldiers were identified.

Please use caution when walking the cemetery. The ground is uneven and contains obstacles and fire ants. Travel at your own risk. Also please respect the monuments, fences and plants, as these repre-sent memorials to those interred in Memory Hill.



Free admission and parking.

Open daily.



Phone: 1-800-653-1804 -

Address

: 300 W Franklin St., Milledgeville Georgia 31061 -

GPS location

is 33.0747, -83.229


Print a Historic Heartland Travel Region Map
Historic Heartland Fun:

Festivals & Events

Free Indoor Activities

Free Outdoor Activities

Tourist Centers

Travel Region Info