The McDaniel Farm Park was created for a farm that originated in the late 1800s. This was a working farm all the way into this century. Many of the farm implements date from the time they were drawn by horses.

A walk through this park in such a heavy populated area is like a walk in the past. Enjoy this preview of the park. The park is located behind the Gwinnett Mall. For such a busy area, it was a surprise and was like taking a step back in time.
Things To Do:

134 Acres in size - Experience life on a historic farm! The property, a former cotton farm, has been restored to depict typical 1930s subsistence farm in Gwinnett County. One of the original tenant farmhouses on the property has been restored, as well as the barn, Carriage house, Tenant house, barn, well house, chicken coop, buggy shed and blacksmith shed. The furnished McDaniel Farm House features displays in several of the rooms that can be viewed by visitors.

The natural beauty of the park can also be experienced through several recreational amenities, including 3 miles of connecting, paved multi-purpose and soft surface trails, a picnic Pavilion, grills and restroom. Open for tours.

Located in a heavily populated area of houses and businesses, it is a surprise because a stop here is like a walk into the past. This once family owned farm was originally built in the 1800s and several generations of farmers work this farm. The primary house is located in a shady tree surrounded area to provide shade and comfort in a time long before air conditioners were even dreamed about. It provided all the necessities needed to feed and care for family's on this farm. Close to the house are the relics of past times. A well for water, barns and structures for various tasks on a farm such as a blacksmith shop.

See more info, pictures and a video below.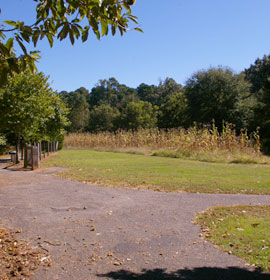 Many of the past farming tools are located throughout the property. Each is labeled as to their use. The majority were pulled by draft horses used to keep the farm in operation. As time moved on, you will also see more modern versions of machines used today. A early farm tractor sits in a barn. Various farm tools pulled by the tractor sit close by as well to aid in the fall harvests. Many fields provided staples to feed folks living on the farm as well as crops they could sell to others in the community.

In the lower field that was once planed with cotton, a major crop in Georgia's history, there also stands a tenant farm house where a family exchanged their labor for a home and food for the family. Behind the tenant house is an outhouse that provided this basic necessity as well as a well close to the house to provide clean water. While the tenant farmhouse is not large, you can see how a tenant farm family lived in earlier times.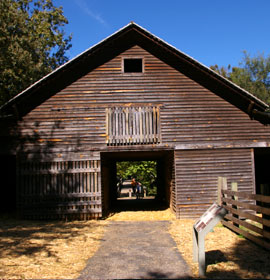 There are a number of paved trails throughout this park making it easy to find your way. This is a pet friendly park, so you will see visitors walking their best friends too. Along the trails there are benches you can stop and relax at while watching natures beauty.

There are a number of picnic tables to enjoy a family excursion out of the heat of the noon day sun. Several of the fields have plants growing you would find in the earlier days of farming. There is even a grape vineyard on the property. Closer to the main house, there are stalls and corrals for farm animals to stay. Those locations may have housed milk cows, pigs and other animals that provided staple to farm diets.

There are group facilities for large family gathering to the park. They have standard features such as grills and fire rings in comfortable surroundings for everyone. It can take some time to fully explore the entire park. Since it is in a busy settled community, it is nice to find a place to step away from modern life and step back into the past.

The McDaniel Farm Park is a wonderful resource to have in a growing community!
McDaniel Farm Park

-

Phone Numbers

: Park & Trails Info: 770-822-8840 and Historic Info & Rentals: 770-814-4920 -

Address:

3251 McDaniel Road, Duluth, Georgia 30096 -

Office Hours:

Friday-Saturday, 10am-4pm; Sunday, noon-4pm until October 31.

Park Hours:

Sunrise until sunset unless otherwise posted.