At this peach-packing facility, browse the locally grown produce at the market. There are approximately 300,000 peach trees here.
Produce & More -

Peaches, Pecans, Strawberries, Indian River Citrus, Blueberries, Blackberries, Muscadines, Vegetables,Vidalia Onions, Tomatoes, Peanuts, Peas, Butterbeans, Jams, Jellies, Dressings, Cafe, Mail Order, Ice Cream, Southern Gifts, Peach Tour, GA Peach Festival. Corn Maze and PYO-Strawberries.



Peachtree Cafe

- Lunch is served daily at the Peachtree Cafe! Enjoy delicious barbecue, made-to-order sandwiches, homemade chicken and tuna salad, fresh soup and salad bar daily. We also offer a daily hot meal special. For dessert, we suggest our homemade peach cobbler, pecan pie, strawberry or butter pecan ice cream, and of course, our famous homemade peach ice cream.



Parties

- Celebrate your Birthday on the Farm! We offer our pavilion for a small fee with a 2 hour minimum. The pavilion has 13 picnic tables and is adjacent to our playground. There is an open field behind the pavilion which is perfect for tag, dodge ball or any other game you would like to play. We have party platters or chicken tenders, French fries, hotdogs, hamburgers and much more available for purchase. The platters do need to be ordered in advance. Call to book your birthday reservations.



Weddings

- Natural Beauty! Walk down a beautiful canopy-covered aisle and take your wedding vows in a breaktaking natural setting. Entertain your guests with crisp white linens laden with southern delicacies served beneath the shimmering shade of century-old Georgia pecan trees. We offer event planning services and elegant on-site catering. Our Chef' s prepare custom-created menus to suit your vision, your style and your theme. From Elegant to Southern, we can prepare every dish to make your special event even more memorable. We can cater here on our Farm or at your venue. Call for more information.



Amenities:

Parking, Public Restrooms, Accessibility for mobility-impaired, Food and Party Facilities.

Call for free tours. Open year round.
About Lane Packing Company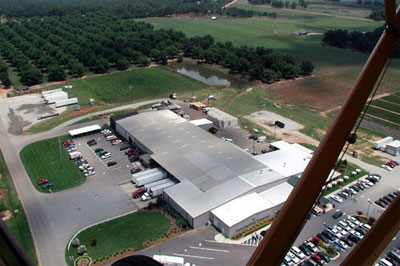 Nothing else tastes like a Georgia peach. Its deliciously juicy, sweet flavor is unique, but, at the same time, incredibly versatile.

Each year, Georgia produces over 130 million pounds of peaches, the official state fruit, between mid-May and mid-August. Over 30 varieties harvested during this time. Ask your grocer for genuine sweet Georgia peaches from Lane Southern Orchards. There are approximately 300,000 peach trees.

Lane Packing Company was established in 1909. Located just outside of Ft. Valley, in the heart of Middle Georgia, Lane Southern Orchards has been growing peaches and pecans for more than 100 years. The farm that now totals almost 5000 acres was started in 1908 by John David Duke and at that time was known as Diamond Fruit Farm. At that time, peaches were shipped in wooden baskets, which Mr. John David also manufactured on the farm.

Eventually, Mr. John David's grandson, Duke Lane, Sr., or "Big Duke" as we still call him today, took over the reins and the farm thrived under his leadership for many years. The present packinghouse, a state of the art facility, was completed in 1990 and remains as one of the most modern and efficient packinghouses in the industry, with the capacity to pack and ship up to 1,000,000, 25 pound cartons of peaches per season.

In 2006, Lane Packing Company, as it was then known, was purchased by Lane Southern Orchards, led by Sid and Rusty Banack of Vero Beach, Florida, who have grown, packed and shipped world famous Indian River Citrus for almost 50 years. Together, the two companies can now offer their customers a year around supply of premium farm fresh peaches, oranges, grapefruit and pecans! Call for tours.

Open:

Year Round.
Lane's Famous Peach Cobbler
8 cups sliced Georgia peaches, 2 cups sugar, 3 tablespoons all-purpose flour, 1/2 teaspoon nutmeg, 1 teaspoon vanilla flavoring, 1/3 cup butter or margarine, pastry for double-crust pie and Top off with vanilla ice cream
Phone - Address & Website
Phone:

478-825-3362 -

Address:

Georgia 96, Fort Valley, Georgia 31030 -

Website:

www.lanesouthernorchards.com
Loading