Museum History and Info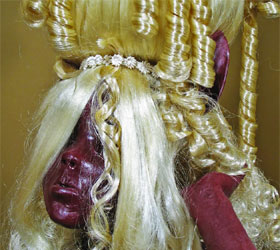 The three story, 32,000 square-foot facility was funded by a grant from Callaway Foundation, Inc., and named in honor of celebrated Georgia artist Lamar Dodd, who took his first formal art classes at the College.

Works held by the museum include a retrospective collection of Dodd's painting and drawings, the Josephine Altman Case Collection of Plains and Southwest American Indian Art, a Masters of Twentieth Century Photography Collection, as well as individual works by Rembrandt, Houdon, Dali, Picasso, Elaine and Willem DeKooning, Henry Moore, Robert Rauschenberg, Don Reitz, and many others.

The museum's exhibition schedule is varied. Important new directions in contemporary art are presented each semester to students in a visiting artist program. Before graduation each spring, senior art majors mount an exhibit of their best work as a culmination of their education in the visual arts. In addition, the College co-sponsors a national juried exhibition held every other year, The LaGrange Biennial, which attracts artists from throughout the United States.
Classroom Facilities
In addition to the museum, the Lamar Dodd Art Center houses a complete range of classroom facilities. The drawing and painting program provides large open classrooms and private studios for majors. Our state-of-the-art ceramics and sculpture area offers semi-private studios for the major and a large equipment inventory.

This is complemented by a well-equipped woodworking shop and welding equipment. Our photography area contains a large traditional darkroom and several Mac computers and printers for digital imaging. The graphic design program includes a large Mac lab with several printers and scanners and current software. We have a large printmaking lab with the capacity for intaglio, lithography and relief printing. Art history classes and lectures are held in a spacious tiered classroom using digitized projection.
Biography of Lamar Dodd
Lamar Dodd was not only the most recognized artist of his generation from the state of Georgia, but also a passionate advocate for the arts. His most visible legacy is the Lamar Dodd School of Art at the University of Georgia.

Born on September 22, 1909 and reared in LaGrange, Dodd began art instruction at an early age. After briefly attending the Georgia Institute of Technology in Atlanta, he enrolled at the Art Students League in New York City. He studied privately with George Luks (1867-1933), an artist associated with the early 20th century Ashcan School, also known as The Eight. Dodd was influenced by the Ashcan artists' emphasis on realism, use of a somber palette and depictions of daily life.

Dodd returned to the south in 1933, where he promoted a "local art," one that featured southern scenes, southern history and southern people. As part of a national movement to put working artists into universities, Dodd was appointed to the faculty of the University of Georgia in 1937, and the department grew quickly thanks to his efforts. In the 1940s Dodd began to expand his painting subjects to include the north Georgia mountains and South Carolina's coast.
By the 1950s, Dodd began to travel the world, first to Europe where he studied the old masters and 19th-century artists and, later, as a cultural emissary for the State Department to the United Soviet Union, the Mid East, and Asia. During the 1960s, Dodd painted for the NASA art program, and a decade later he investigated another, more intimate universe -- that of the human heart. In the 1980s and early 1990s, Dodd returned to the natural world for his subjects. The seascapes of Monhegan Island in Maine were a favorite subject, as were the sunflowers of America and Europe. Before his death in 1996, Dodd once again painted realistic American scenes.
In his career Dodd went full circle, from depictions of daily life to studies of cosmic forces and, finally, back to a private, personalized universe. For fully two-thirds of the 20th century, Lamar Dodd represented Georgia's visual arts community as administrator, teacher and advocate. His work is found in premier collections, among them the National Gallery of Art, Washington, DC; Addison Gallery of American Art, Andover, MA; Marshall Space Flight Center Art Collection, Huntsville, AL; Morris Museum of Art, Augusta, GA; and Smithsonian American Art Museum, Washington D.C.
- Dr. William Eiland
Open Hours
The museum is open when the College is in session from 8:30 a.m. to 4:30 p.m. from Monday through Friday. School groups may schedule a guided tour of current exhibitions. Call 706-880-8211.
Amenities
Parking, Public Restrooms, Accessibility for mobility-impaired
Phone & Address & Website
Phone:

706-880-8211 -

Address:

302 Forrest Avenue, LaGrange Georgia 30240

- Lamar Dodd Art Center Website
Loading

Print a Presidential Pathways Travel Region Map

Presidential Pathways:

Festivals & Events

Free Outdoor Activities


Free Indoor Activities

Activities $5 & Under

Tourist Centers

Travel Region Info