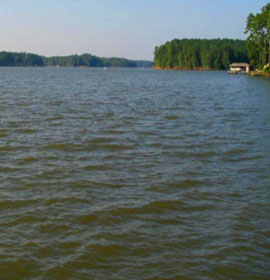 Georgia Power provides a favorite area for fishermen at all skill levels. Lake Sinclair has national and local fishing tournaments. Visitors find fall and winter fishing at Lake Sinclair a special treat.

The reservoir covers 14,750 acres and stretches over Baldwin, Hancock and Putnam counties. The Georgia Power Company owns and operates the reservoir but the Georgia Department of Natural Resources manages the fishery resources.

Angling prospects are compiled by fisheries biologists and are based on sampling efforts of the Georgia Dept. of Natural Resources (DNR), knowledge of past fishing trends, angling experience and information provided by anglers and marina owners. For more information, contact the Wildlife Resources Division, Fort Valley Fisheries office at 478-825-6151.

Privately operated marinas offer boating access for a fee in addition to camping, food, bait and tackle.



Best Fishing Bets

- Largemouth Bass, Striped Bass, Hybrid Bass, Catfish, Crappie, Bream



Largemouth Bass

- Sinclair produces many harvestable-size fish that are caught and released each year, and fishing should be good this year with similar numbers of harvestable-size fish as last year.

Technique

- Spinnerbaits, crankbaits, jig and pig, plastic worms, lizards or buzz-baits all are effective. Try fishing drop-offs, deep brush piles and lighted docks at night in the summertime. Also try edges of weed beds early in the morning or late in the afternoon.



Target

- In early spring, target main points in deeper water or underwater structure (humps) with crankbaits, spinnerbaits and Texas-rigged plastic worms. Look to shallow water in spring as spawning begins. At any time of the year, greater success can occur during the generation or pump-back phase at Wallace Dam, especially in the areas influenced by the water movement. Remember that fish like to hold on the down-current side of docks and points.
Striped Bass

offer anglers an added sport fish dimension. Reintroduction plans for the striped bass continue through stocking efforts, which adds trophy potential for 10 to 20-pound catches possible in the coming years. Many stocked in 2005 will reach 26-plus inches this year.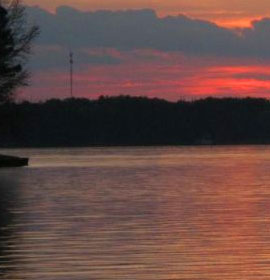 Technique

- Striped bass can be caught by trolling, casting or jigging artificial lures such as Rapalas, Rebels, Cordell Hot Spots or bucktails in deeper water or at the surface depending on the presence of schools of baitfish. Striped bass also can be caught by floating or bottom fishing natural baits such as live or cut shad or shiners. During the summer months, stripers can be located and caught by trolling deep-diving crankbaits over main lake points or near the edge where a flat drops off into the channel.



Target

- In winter, target the warm-water discharge in Beaverdam Creek. The action will move up in the major tributaries during the spring spawning run. Good locations include Little River and Murder Creek. Another traditional area for white bass, large hybrids and stripers this spring is directly below Wallace Dam. Also worth trying for large hybrids and stripers this spring is the Oconee River below Sinclair dam. In the summer look for stripers in the main lake following schooling baitfish, both on the surface and at greater depths.
Hybrid Bass

- A few larger hybrids add another sport fish dimension, though they haven't been stocked since 2006. Smaller hybrids also are available through escapement from Lake Oconee.

Technique

- The same techniques for catching striped bass can be used for hybrid striped bass. See above for striped bass fishing techniques.

Target

- See above for striped bass targets.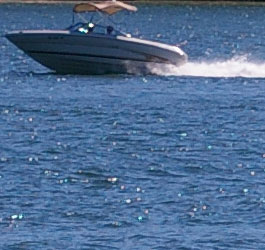 Catfish - Catfish are both abundant and popular. Channel cats are the primary species of interest, but blue, white and bullhead catfish also are common. Recent research indicates an expanding population of blue catfish. Trophy potential for channel cats exists (in the 20-30 pound range), though the majority will be 1/2 - 1 1/2 pounds, with a few near or greater than 10 pounds. Expect most blue catfish catches between 1/2 to 1 1/2 pounds, with 10-plus pounders also showing up in the mix.

Technique

- Effective baits are live and cut fish including bream, shad and minnows, worms and doughballs fished on the bottom with spinning outfits or with cane poles under a bobber. A suitable choice for a spinning outfit is a spinning rig with 8 lb. test line and a 4/0 hook with a sliding 1-ounce sinker.



Target

- Look for catfish around cover adjacent to old creek channels in deeper water during the day and shallow flats adjacent to the creek channels at night. Catfish also can be found around docks with brush. Larger catfish typically can be found below Wallace Dam during the generation phase.
Crappie

- Similar to previous years, expect abundant fish with an average size around 8 inches. Approximately 25 percent of this spring's catch will be greater than 8 inches, and around one fifth of all catches will be 10 inches or greater. Expect some crappies over 2 pounds.



Technique

- Both natural and artificial baits are effective. Small minnows hooked through the back or lips using long-shanked small hooks are good live bait. Trolling with crappie jigs, Triple Ripples or Hal-flys, pitching jigs under docks, and casting small crankbaits are all effective.



Target

- In the winter, target deepwater structure or the warm water discharge in the Beaverdam Creek area. In the spring, concentrate in the upper ends of coves. When the water warms, target deeper submerged treetops and areas around docks with brush or try fishing with lights at night under bridges or lighted deep-water docks, deep brush in coves or around deepwater structure.
Bream

- Bluegill and redbreast sunfish are available and generally small. Both bluegill and redbreast will measure 4-5 inches with some individuals reaching 7-8 inches. Shellcrackers will be bigger with average sizes of 7-8 inches and some reaching 11 inches.



Technique

- Bluegill, redbreast and shellcrackers can be caught with cane poles or spinning outfits rigged with small hooks, bobbers and split shot using worms or crickets fished at various depths, including the bottom. Fly rods are effective in spring, summer and fall with wet and dry flies. Slowly retrieved small artificial lures such as Beetle Spins Rooster Tails or Shysters also are effective.



Target

- Look for bream in or very near cover such as weed beds, brush piles and under and around docks with heavy brush. Bream easily can be caught in the spring and summer when the fish spawn. Search for the saucer-shaped depressions in shallow water during this time.
Contact Info & Website Link
Free parking and Restrooms.

Phone

: Georgia Power Company at 706-485-8704 - Oconee/Sinclair Land Management Office -

Location:

US Hwy 441, Milledgeville, Georgia 31061 - Georgia Power - Lake Sinclair Website Link.
Visit:

Lake Sinclair Camping
and Recreation



Georgia Lakes

WMA Public Fishing Areas

GA Fishing Lakes

Georgia Rivers & Map

GA Lakes & Rivers Map

Water Safety


Print a Travel Region Map
Historic Heartland Fun:

Festivals & Events

Free Indoor Activities

Free Outdoor Activities

Tourist Centers

Travel Region Info