Lake Conasauga Recreation Area Camping & General Information
This scenic 19-acre spring-fed lake rest near Grassy Mountain. It is the highest lake and campground in Georgia. Families will enjoy camping in this quiet, rustic setting which offers cool summertime temperatures.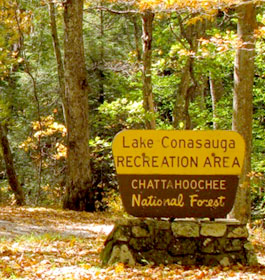 Whether hiking to the Songbird Management area or to Grassy Mountain tower, fishing, or swimming, you will revel in this area rich in plants, birds and wildlife. Note: Cell service is limited due to remoteness.



Campground Amenities -

A developed campground situated near Lake Conasauga. 31 campsites in two graveled loops with parking for two vehicles. 2 restrooms with sinks and flush toilets. Used as a stop-over for Cohutta Wilderness adventures. Standard amenities include a grill, picnic tables, lantern posts, etc. No showers, electricity or hook-ups.



Reservations

Reservations are not required. Campsites are on a first come, first serve basis.



Fees:

$10 a night per site.



Open:

24 hours per day from mid-April through October 31. Quiet hours 10 pm to 6 am. Closed rest of year.
Restrictions:

Campsites are for 1 family or 5 adults. Site must be occupied first night of stay. Maximum two vehicles per campsite. 14 day limit. Dogs must be leashed at all times. Boats with electric motors only.



Closest Towns:

Chatsworth, GA, approximately 24 miles to the southwest, and Ellijay, GA, roughly 22 miles to the southeast. Chatsworth and Ellijay both offer numerous restaurants, grocery stores and gas stations.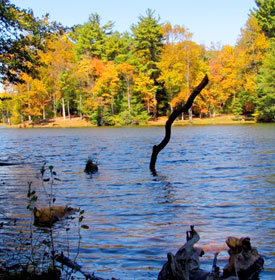 Water: Drinking water available at hydrants located throughout the campground.


Restroom Facilities:

Flush toilets centrally located.



Passes:

The Interagency Senior and Access Passes and the Golden Age and Access Passports are accepted. These passes entitle the holder to a 50% discount on camping fees.



More Recreation Activities




Additional Campground Camping

- Lake Conasauga Overflow Campground

Day Hiking - Lake Conasauga Overflow Campground and Lake Conasauga Picnic and Swim Site



Mountain Biking

- Lake Conasauga Overflow Campground



Lake and Pond Fishing





Picnicking

- Lake Conasauga Picnic and Swim Site



Boating - Motorized

- Lake Conasauga Picnic and Swim Site



Swimming

- Lake Conasauga Picnic and Swim Site
Contact, Directions & GPS Location
USDA Forest Service, Conasauga Ranger District office

-

Phone:

706-695-6736

Address:

3941 Highway 76, Chatsworth, GA 30705



Chattahoochee-Oconee National Forests

-

Phone:

770 297-3000


Address:

1755 Cleveland Highway, Gainesville, GA 30501


Office hours:

Tuesday - Friday at 9 - 12 & 1-4 - Closed Saturday, Sunday, and Monday



Directions:

Take U.S. 411 north from Chatsworth for 4 miles to Eton. Turn right (east) at traffic light in Eton. Follow Forest Service Road 18 east for 10 miles, then turn left (northwest) on Forest Service Road 68 for 10 miles.



Lake Conasauga Recreation Area GPS Location

- Latitude is 34.859610 and Longitude is -84.651350.

Georgia US Forest Areas

Camping

Hiking

Horseback Riding Trails

Fishing

Canoe Trails

GA US Forest Wilderness

Wilderness Preparation

Canoe Safety Tips

Forest Safety Tips

GA U S Forest History