Allatoona Lake is one of the most frequently visited Corps of Engineers lakes in the nation. Over 6 million visitors each year enjoy picnicking and swimming at our parks, camping, hunting, fishing, boating, and observing wildlife along the beautiful shoreline.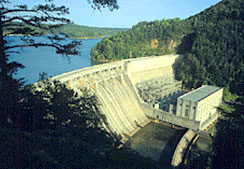 Lake Allatoona features over 1,000 secluded RV and tent campsites found along the shoreline of this gorgeous 12,000 acre lake. Visitors can experience the wonders of nature, dive into water sports and generally relax knowing that your never more than 10 minutes from town. A stop at the Visitors Center will provide you with detailed maps of the lake and recreation areas and will introduce you to the history of Allatoona Lake, Bartow County's geology, the Native American culture and the Civil War.

The Overlook provides soaring view of Allatoona Lake, its dam and the Etowah River below. Hiking trails end at the river bottom. Trail maps for the following trails are available at Allatoona Lake Project Management Office/Visitor's Center & Overlook - 8 AM-6 PM (summer), otherwise 8 AM-4 PM. Open daily. Handicap Accessible. Listed on the National Register of Historic Places. Maintained by the US Army Corps of Engineers. Located in the foothills of the Blue Ridge Mountains, this is the oldest Corps lake in the southeastern U.S. No admission fee to visit. Beautiful free fun for everyone. There are camping fee charges.

Click here for more info about the U. S. Army Corps of Engineers scenic campgrounds at Allatoona Lake.
Physical Address: 1138 GA Highway Spur 20, Cartersville, GA 30121 -

Contact Address:

Allatoona Lake General Information, Operations Project Manager, U.S. Army Corps of Engineers, P.O. Box 487, Cartersville, GA 30120 -

Phone Contacts:

Office at 678-721-6700 - Lake Elevation at 770-386-0549 and Generation Schedule at 706-334-7213



Office Hours:

Monday - Friday, 8am - 4:30pm -

Directions:

From Atlanta, 45 miles north on I-75 to Exit 290, east on GA 20, south on GA 20 Spur to the dam and visitor center.
State Plane and GPS Coordinates for Day Use and Camping Areas, and Boat Ramps
*State Plane Georgia West NAD83 Feet, GPS Coordinates NAD27 Feet
State Plane Coordinates*

GPS Coordinates*

Northing

Easting

Latitude N

Longitude W

Day Use Areas
Victoria

1510604.9

2159727.3

34 09 06.1

84 37 08.8

Kellogg Creek

1499459.5

162564.5

2 34 07 16.0

84 36 34.4

Sweetwater

1527272.1

2172863.0

34 11 51.6

84 34 33.3

Cherokee Mills

1512939.0

2170773.7

34 09 29.7

84 34 57.4

Cooper's Furnace

1515312.2

2124540.1

34 09 51.0

84 44 08.1

Tanyard Ramp

1487957.6

2137378.2

34 05 21.0

84 41 33.3

41 #1

1487337.0

2133929.1

34 05 14.7

84 42 14.3

41 #2

1487175.4

2132156.1

34 05 13.0

84 42 35.4

Blockhouse

1487959.1

2130138.0

34 05 20.7

84 42 59.4

Riverside

1514126.1

2122696.4

34 09 39.1

84 44 29.6

Galts

1503288.9

2151890.1

34 07 53.4

84 38 41.6

Campgrounds
McKaskey

1525764.4

2128416.7

34 11 34.6

84 43 22.3

41 #3

1488023.1

2132474.6

34 05 21.4

84 42 31.6

Sweetwater

1527522.5

2172749.9

34 11 54.0

84 34 34.6

Upper Stamp Creek

1529355.0

2141183.7

34 12 10.2

84 40 50.6

Payne

1499878.0

2159141.8

34 07 20.0

84 37 15.2

Clark Creek North

1492981.2

2140397.6

34 06 10.9

84 40 57.7

Clark Creek South

1491927.9

2140426.7

34 06 00.5

84 40 57.3

Victoria

1510369.3

2160118.5

34 09 03.8

84 37 04.1

McKinney

1496222.2

2136115.3

34 0642.7

84 41 48.8

Boat Ramps
Cooper Branch #1

1517530.7

2126673.8

34 10 13.0

84 43 42.5

Tanyard Creek Ramp

1488528.5

2137655.4

34 05 26.7

84 41 30.1

41 #1

1486998.1

2133976.1

34 05 11.4

84 42 13.7

Blockhouse

1488232.8

2130523.9

34 05 23.4

84 42 54.8

Riverside

1514146.8

2121964.5

34 09 39.3

84 44 38.3

Stamp Creek Ramp

1524203.1

2136867.1

34 11 19.6

84 41 41.6

Knox Bridge Ramp

1533600.2

2174876.6

34 12 54.3

84 34 09.6

Cherokee Mills Ramp

1513652.6

2171041.5

34 09 36.8

84 34 54.3

Victoria Day Use

1510783.9

2159201.2

34 09 07.9

84 37 15.0

Galts Ferry

1503320.8

2151299.8

34 07 53.7

84 38 48.6

McKaskey CG

1524511.7

2130167.0

34 11 22.3

84 43 01.4

Sweetwater CG

1525370.2

2171155.0

34 11 32.7

84 34 53.5

Upper Stamp CG

1529020.8

2142671.2

34 12 07.5

84 40 32.8

Payne CG

1499989.7

2160691.7

34 07 21.2

84 36 56.7

Clark Creek South CG

1492233.0

2140640.3

34 06 03.5

84 40 54.8

41 #3

1489095.8

2130859.4

34 05 32.0

84 42 50.9

McKinney CG

1493633.2

2136491.0

34 06 17.1

84 41 44.2

Check these out:

Allatoona Lake Fishing

Allatoona Lake Map


Georgia Lakes

WMA Public Fishing Areas

GA Fishing Lakes

Georgia Rivers & Map

GA Lakes & Rivers Map

Water Safety