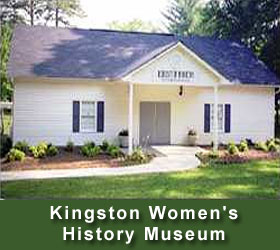 This museum portrays life in Kingston following the Civil War.

Kingston, rich in antebellum history, displays its pride through artifacts, scrapbooks and photographs in two museums maintained by the Kingston Woman's History Club.

The Martha Mulinix Annex displays material about Kingston and the surrounding area. The Civil War museum portrays Kingston's role in the Civil War along with memorabilia from past Kingston Confederate Memorial Day Observances (the oldest such ceremony in the nation). Since 1865, Kingston has observed Confederate Memorial Day by honoring the 250 unknown soldiers in the town cemetery.

It was at Kingston where the last contigent of Confederate Troops east of the Mississippi were pardoned in May 1865. While in Kingston, General Sherman made plans for and awaited approval from General Grant for the March to the Sea.



Amenities:

Restrooms.

Free admission and parking.





Museum Hours of Operation

- Saturday and Sunday at 1-4 pm - Other times by appointment



Phone:

770-336-5637 –

Address:

13 E. Main St., Kingston Georgia 30145 -

Directions:

Take I-75 Exit 290, go west on GA 20 to US 411 South/US 41 North. Continue north on US 41, then exit on US 411 South toward Rome, Georgia. At the first traffic light on US 411, turn right on Hardin Bridge Road. At the end of the road, turn left on Main Street in Kingston. The museum is located ahead on the right in the park in Historic Kingston.


Print a Travel Region Map

More Historic High Country Region Activities

Festivals & Events

Free Indoor Activities


Free Outdoor Activities

Tourist Centers

Travel Region Info