GA's first brewery, signposted on the northwest end of the island. It was started by General Oglethorpe, who evidently knew how to put first things first for his settlers.
The Horton House, on the north end of Jekyll Island, was built by William Horton, the right-hand man to Georgia's founder, Gen. James Edward Oglethorpe. The first brewery was on the Horton House property. The house was rebuilt in 1742-43 after the Spaniards destroyed the original house following the battle of Bloody Marsh. The house would become the home of Christophe Poulain du Bignon, who moved his family to Jekyll Island in the 1790's to escape the dangers of the French Revolution.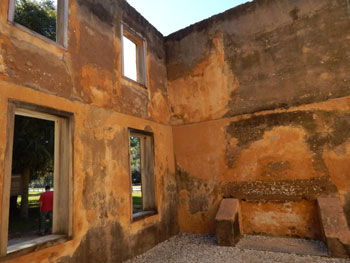 This two-story ruin is one of the oldest standing structures in the state. Very near the brewery stand the ruins of a home built in 1738 by William Horton, one of Oglethorpe's captains.

The Horton House was built in the 1740s for Maj. William Horton, an aide to Gen. James Oglethorpe - Georgia's founder. The house, now a devastated two-story shell, is the state's oldest extant structure made of tabby - a building material indigenous to coastal Georgia and made from crushed oyster shells, lime, sand and water.

The ruins of the oldest brewery in Georgia lie across from the house on Riverview Drive. The brewery, built by Maj. Horton to supply ale to the soldiers and colonists of Fort Frederica, has mostly fallen into DuBignon Creek; but it still draws a multitude of visitors each year.



Open:

Daily.

Free to view.

Amenities:

Parking and Accessibility for mobility-impaired.
Address and Directions
Address:

Riverview Drive, Jekyll Island, GA 31527 -

Directions:

I-95 to Golden Isle Pkwy. Upon entering Jekyll Island, go north on Riverview Drive.

Check These Out:

Festivals & Events

Free Outdoor Activities

Free Indoor Activities

NPS Coast and Islands

GA Coast and Islands

Georgia Coast Events

GA Coast Fishing Lakes

Georgia Coast Museums

Map & Travel Region

Colonial Coast GA Travel Region Printable Map