Enjoy the historic structure, passing trains and local history.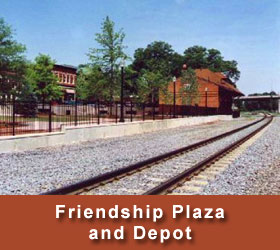 One of the first things people notice about Cartersville, Georgia is the number of trains that go through every day. In fact, about two per hour - 50 per day - bisect downtown.

There are two bridges over the tracks and still some complain. But kids love them, and everybody jokes about them. Once, a jokester at the Convention & Visitors Bureau suggested "A Train Runs Through It," as a theme line for the City.

Anyway, the reason for dwelling on trains is that it's very appropriate that traffic stops for them 50 times daily. That's because most of the traffic stops in front of Friendship Plaza, Cartersville's downtown park, and the plaza is named in honor of the man responsible for bringing trains here in the first place more than 150 years ago. The man was Mark Anthony Cooper.

Now the reason it's Friendship Plaza instead of "Cooper Plaza" is that the name is taken from a unique monument Cooper commissioned which stands in the park. It's called "The Friendship Monument." Cooper commissioned the monument in 1857 to honor 38 friends who had aided him in a financial crisis, and it's believed to be the only monument in existence erected by a debtor to honor his creditors. Ironically trains are what got Cooper into financial trouble.

Revitalization of downtown Cartersville includes the new Friendship Plaza, where the Cooper Friendship Monument was dedicated in 2001.
Plaques on the fence next to the railroad that are tribute to Cartersville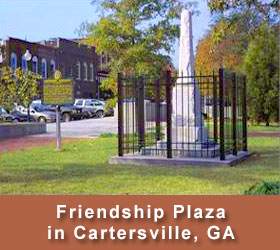 Georgia Supreme Court Chief Justice Robert Benham - also Georgia's first African-American Justice



Attorney Warren Akin, who argued the first case before the Georgia Supreme Court in 1848



Amos Akerman, who in 1870 organized the United States Justice Department while serving as Attorney General in the Cabinet of President Ulysses S. Grant



Woman's rights advocate and political columnist Rebecca Latimer Felton who became the first woman to be seated in the United States Senate (1922)



CSA General William T. Wofford, who led the last surrender of Confederate troops east of the Mississippi, and was a life-long advocate of eliminating the poll tax and extending the right to vote to Blacks



CSA Major General P.M.B. Young became the first Georgian to be seated in Congress after the Civil War and was the youngest Major General in either the Confederate or Union Armies

Congressmen William H. Stiles (1843-45) and William H. Felton (1875-81)



Methodist evangelist Samuel Porter Jones who originated the idiom "The road to hell is paved with good intentions" and for whom Nashville's Grand Ole Opry (Ryman Auditorium) was built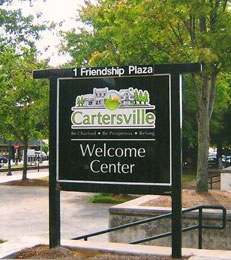 Baptist missionary Lottie Moon, a female pioneer in foreign mission service remembered today as the namesake for the Lottie Moon Christmas Offering for Foreign Missions



Baseball great Rudy York (1913-1970), who still holds the major league record for the most home runs hit in the month of August



Thoroughbred Horse Racing Hall of Fame Trainer Horatio Luro



Corra Harris, the first woman to be a war correspondent, covering World War I for The New York Post, and author of numerous novels including Circuit Riders's Wife, upon which the film classic "I'd Climb the Highest Mountain," starring Susan Hayward was based, and



Bill Arp, late 19th Century humorist and nationally syndicated columnist



Hours Open

- The Welcome Center in the Depot is open Tuesday through Friday at 10 am until 4pm. You may visit the train station at anytime. Tours are available. You may call to request a tour or ask for one when you visit.



Amenities:

Restrooms, Accessibility for mobility-impaired and Party Facilities.

Free admission and parking.





Phone:

770-607-3480 -

Address:

1 Friendship Plaza, Cartersville Georgia 30120


Print a Travel Region Map

More Historic High Country Region Activities

Festivals & Events

Free Indoor Activities


Free Outdoor Activities

Tourist Centers

Travel Region Info