The rose garden has about 1,300 roses from 3 sources. Fernbank Forest is a 65-acre tract of relatively undisturbed mature mixed hardwood forest. Visit the butterfly garden and the Home Composting Demonstation Site.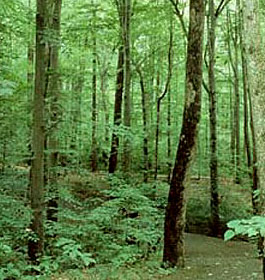 The Robert L. Staton Rose Garden is named in honor of the man who first established a rose garden at Fernbank in 1983. Bob Staton's love of roses, his desire to educate the public, and the absence of a test site in Atlanta's growing climate were key forces in the birth of the concept that evolved into the garden you see today. It is one of only three gardens in the United States that have both AARS and ARS test roses.

The garden consists of approximately 1,300 roses from three sources: All American Rose Selections (AARS) test plants, American Rose Society Award of Excellence (ARS) miniature test plants, and donated named roses.

The Robert L. Staton Rose Garden is maintained by Fernbank Science Center. The garden is located on the property of Fernbank Museum of Natural History. The partnership of the Fernbank Museum and Fernbank Science Center has enabled this lovely garden to be available to all to enjoy and appreciate the beauty of roses. Be sure to visit the garden when in the area and return from time to time to view the varieties of roses being tested by ARS and AARS, as well as the seasonal changes displayed by the established roses.
Open daily to the public free of charge.



Located

at Fernbank Museum of Natural History, 767 Clifton Road, N.E. Atlanta, Georgia 30307
Fernbank Forest is a 65-acre tract of relatively undisturbed mature mixed hardwood forest.

It is a small remnant of the type of forest vegetation that originally covered the Piedmont region of Georgia, including the Atlanta metropolitan area. Practically all of Atlanta's original vegetation has been destroyed, first by farming and later by urban and suburban development.

Visitors to Fernbank Forest can observe firsthand the beauty of forest land as early explorers and southern Native Americans would have done hundreds of years ago. Trees, shrubs, wildflowers and ferns are labeled so these plants can readily be identified. Animals such as squirrels, chipmunks, birds, turtles and snakes live undisturbed in their natural environment. A small pond teems with aquatic life.

During school hours Fernbank Science Center biologists teach visiting students ranging from kindergarten to graduate school and public groups from cub scouts to senior citizens a variety of scheduled programs in this "living laboratory." In the afternoons and on weekends public visitors can walk the 1½ miles of paved trails and enjoy the beauty of this unspoiled woodland. Fernbank Forest offers something to everybody every season of the year.
The Home Composting Demonstation Site and Gardens - Located behind Fernbank Science Center's main building, it includes numerous types of working compost bins that homeowners can easily make or buy themselves. The site also includes a vegetable garden, a butterfly garden and different species of plants used for landscaping purposes.
Contact and Address
Phone:

678-874-7102 -

Address:

Fernbank Science Center, 156 Heaton Park Dr., Atlanta Georgia 30307

Visit

:


Georgia Gardens

Garden Types

Fernbank Planetarium

Atlanta Travel Region Printable Map
Metro Atlanta Georgia

Festivals & Events

Free Indoor Activities

Free Outdoor Activities

Tourist Centers

Travel Region Info