Displays range from pre-historic bones of mastodons and mammoths, bison and whale, to sea urchins and oyster shells from Porter's Landing. Stay and Play in GA!
Displays Info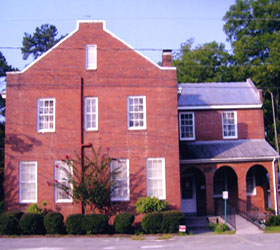 The Veterans Room features the U. S. S. Effingham as well as items from our local 30th Military Police Division, several Army and Navy uniforms from local veterans and much more.

Upstairs is our General Store and turpentine tool display. The infirmary is stocked and the jail cells are a display of their own.

A library and research center is combined with the office for the Historic Society and Museum. There are over 200 genealogy books and over sixty local family genealogies as well as other history. We have microfilm of census records and the local newspaper.

The Indian display case has artifacts from work and play and a great arrowhead collection. The colonial-Revolutionary display has everything from clay pipes and shoe buckles to tools and wine bottles.
Our little cabin display is composed of materials removed from the Reuben Morgan homestead, which was begun in 1788. The wood doorknob and latch and the wood window shutter with wooden hinges are amazing. Children love the sleeping loft and primitive furniture.

The 1940's kitchen is located in the actual kitchen of the jail, and has an ice box, cast iron wood stove and a pie safe as well as the radio and many everyday items from that period.

Our Confederate display has items from the Union and Confederate Army. The United Daughters of the Confederacy has their charters and Confederate items in one of our rooms. There is an outstanding weaponry display.



Amenities

: Parking, Public Restrooms, Accessibility for mobility-impaired and party facilities
Hours of Operation
Call for hours and fees. Please call to arrange tours.
Phone - Address & Website
Phone:

912-754-2170 -

Address:

1002 Pine Street, Springfield, GA 31329 - Old Effingham Jail Museum and Living History Site Website
Loading

Georgia Coast and Islands Printable Map

Visit:

Coast and Islands National Parks

Georgia Coast - Islands

GA Coast Events

Coast Free Things To Do

GA Coast Fishing Lakes

Georgia Coast Museums

Georgia Coast Shopping

GA Coast and Islands Map & Travel Region