Duncan Creek Park is an unusual park because of one feature, a spacious skateboard park. While it also has many additional amenities as well as a county library, the skateboard park attracts a lot of thrill seekers. Early in the morning give you plenty of time to enjoy this feature. Late afternoon, there will be a crowd.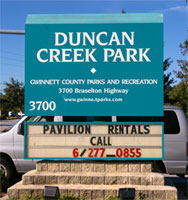 Duncan Creek Park is located in the northern part of Gwinnett County. It is located at 3700 Braselton Hwy in Dacula Georgia, and operated by Gwinnett County Parks and Recreation. Close to Hamilton Mill, a growing populated community, it has several features that sets it off from other county parks.

Within the park borders you will find a Gwinnett County Library, a variety of recreational activity areas that include basketball courts, volleyball courts, children play areas, football fields and it's most unusual feature, a skateboard park.

The skateboard park provides a clean and well kept area for a sport that has national following of enthusiast. Multiple skateboard areas provides an ample place to enjoy this strenuous sport. Skateboard enthusiast range from teenagers to some in their 30s.

It is a competitive sport that focuses on individuals speeding up the walls of concrete structures that from first glance seem like empty swimming pools. Protective padding and headgear along with a variety of skateboards or inline skates seem to defy gravity as they speed through the various obstacles on the courses.

Early in the morning seems to be the best time to have the course to yourself. By late afternoon, a crowd will be at the park racing against each other to cheering onlookers. You will also see many wearing helmet cameras as they glide across the concrete surfaces.

See more info, pictures and a quad-copter birds'-eye-view video below.

On a warm day you will find volleyball teams fighting out a game with others sitting around the courts watching the exciting games. These are games of skill and teamwork that attract young and old alike.

The well used basketball courts also provide team sports to the young and old. These are battles pitting teams against each other in this very popular sport.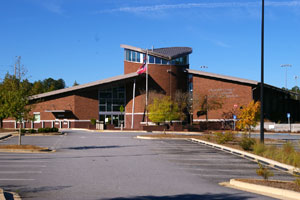 For those visitors with small children, there are special play areas where Mom or Dad can sit in shady areas watching the fun. Picnic tables in the large pavilion located close to the playground provide a rest area to feed the family and get out of the sun for a bit.

There are trails throughout the park that are pet friendly for those walking their best friends. Kevin Kenerly Field is a modern area for football with room for visitors watching this sport. The field is well maintained, surrounded by a fence to separate the action from the spectators. Ample parking throughout the park provides plenty of space for visitors to the park.

This Gwinnett County park is located close to a library, fast food restaurants and local shopping.
Duncan Creek Park

-

Phone Numbers

: Youth Athletics & Rentals: 770-932-4421 - Trails: 770-978-5270 -

Address:

3700 Braselton Hwy., Dacula, Georgia 30019 -

Park Hours:

Sunrise to 11 pm unless posted otherwise.

Things To Do:

110 acres. Lighted skate complex, 4 lighted basketball courts, 3 lighted sand volleyball courts, playground with handicap-accessible features, Pavilion, football - multi-purpose field with lighted track, grill and restrooms.