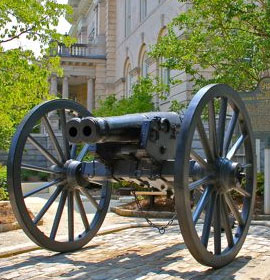 This weapon, still pointing north, may be one of the most unusual from the Civil War. It was built at the foundry in 1862 when the community feared attack. Only one of its kind in the world.

Failed to fulfill its mission of simultaneously firing two balls connected by a chain. Athens' double-barreled cannon, the only one of its kind, is among the most unusual relics ever to be preserved from the War Between the States. It was originally designed by John Gilleland of Athens and built at the local foundry in 1863, when an anxious community feared attack by invading Northern Armies.

The concept was to load the cannon with two balls connected by a chain several feet in length; when fired, the balls and chain would whirl out and cut down enemy soldiers caught in the path of the murderous missile. When the cannon was test-fired, however, the cannonballs proved uncontrollable.
A contemporary who witnessed the firing reported that the projectile "had a kind of circular motion, plowed up an acre of ground, tore up a cornfield, and mowed down saplings. The chain broke, the two balls going in opposite directions; one of the balls killed a cow in a distant field, while the other knocked down the chimney from a log cabin. The observers scattered as though the entire Yankee Army had been turned loose in that vicinity" (Brockman, Secret Weapon).

When the cannon proved a failure, it was presented to the City of Athens Georgia rather than to be dismantled. For over a century, this unconventional weapon has been an object of curiosity for sightseers and a favorite subject for photographers. It has also been featured by "Ripley's Believe It or Not." Today, it sits silently on the lawn of City Hall, pointing North…just in case.



You can see it any day, anytime for Free.





Address

: 301 College Ave, Athens, GA 30601


Print a Historic Heartland Travel Region Map

Historic Heartland Fun:

Festivals & Events

Free Indoor Activities

Free Outdoor Activities

Tourist Centers

Travel Region Info