Produce and More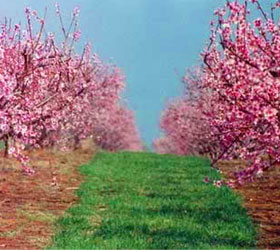 Featuring the oldest operating packing house in Georgia. Enjoy the open-air market. Peaches, Nectarines, Fresh Peach Ice Cream, Sweet Corn, Shelled Butterbeans, Shelled Peas, Tomatoes, Peach Bread and Fritters, Jams, Jellies, Dressings, Salsas, Gift Items, T-Shirts, Hats, Mail Order. Tour Groups Welcome. Nice Pavilion for Picnics. Oldest continuously operating packinghouse in Georgia.

For our local visitors that are able to come to the packinghouse - you will be happy to know we have expanded our retail floor to include the entire upper level. We have new grading and sizing equipment and a wonderful viewing area for overlooking the packing operation. We plan to have more vegetables, a sampling/tasting station and more rocking chairs to enjoy our delicious homemade peach ice cream.



Amenities:

Parking, Public Restrooms, Accessibility for mobility-impaired and party facilities.
Dickie Farms History
Dickey Farms is home to Georgia's oldest, continuously operating peach packinghouse. Built in 1936 from lumber hewn off the land of Robert L. "Mr. Bob" Dickey, the long, white building is a prominent landmark in Musella, Georgia. At the time of construction, the packinghouse was ideally located near rail lines for better transportation to the peach-hungry North.

"Mr. Bob" was an early pioneer of "multi-tasking", being a postmaster, undertaker, depot agent and general store manager. However, his heart was in the peach industry, and we are reaping the rewards today.

In the early days of Dickey Farms mules were used to plow the orchards and also for transportation of peaches to the packinghouse. At that time, most of the work was done manually. However, "Mr. Bob" was a forward-thinker, always wanting to introduce labor saving equipment. He installed Georgia's very first brushing machine to remove the peach fuzz. He was also one of the first producers to include a hydro-cooling system that places peaches in 35degree water to remove field dust and slow the ripening process, making them perfect when reaching the northern markets.

Today, his grandson, Robert L. Dickey, II and his great-grandson, Robert L. Dickey, III, work together to ensure that a Dickey Farms peach is the freshest, most succulent fruit available. While "Mr. Bob" shipped all his fruit by refrigerated railroad cars, peaches today are shipped by refrigerated trucks, which can reach some markets overnight. Although many changes in the industry have been made over the last 100 years, the Dickey family still continues the tradition of providing the highest quality peach.
Open
7 days a week from the middle of May until the second week of August. Call for guided tours.
Contact - Address & Website
Phone

: 478-836-3136

- Address

: 3440 Old U.S. 341 N, Roberta Georgia 31078 -

Website:

www.dickeyfarms.com -

Directions:

6 miles north of Roberta at the intersection of Hwys. 341 & 42 in Crawford County.


Print a Historic Heartland Travel Region Map
Historic Heartland Fun:

Festivals & Events

Free Indoor Activities

Tourist Centers

Travel Region Info