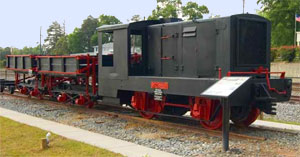 See extensive Civil War memorabilia, the Old Jail and Confederate cemetery in this town that was part of Sherman's March to the Sea.

The 1885 Central of Georgia Railway depot at Gordon was rehabilitated in 2003 with Transportation Enhancement funds. It now houses a railroad museum in the former waiting rooms and depot agent's office. The former freight room now is used as a community meeting space. The rail line is still in service as Norfolk Southern's Savannah-Macon line.

On display beside the depot is this gas-electric 0-4-0 locomotive. Built in 1930 by Mack Truck, Inc. of Allentown, PA (as its no. 171010), it served the former Edgar Brothers Kaolin Company at nearby McIntyre. Locally called a "bogey," the 15-ton unit and two side-dump ore cars were donated to the museum by Engelhard Corporation.

The local mines built their tracks to the 3-foot gauge.

Four-wheel ore cars could dump their loads on either side. Constructed of wood and steel, they used link-and-pin couplers.

This track maintenance car was built by Kalamazoo Manufacturing Company. It was used in Gordon by Southern Clays, an Engelhard predecessor.

Railcars full of kaolin continue to be part of the scene in Gordon.



Amenities:

Parking -

Call for free tours.
Railroad Depot History
Gordon, a town of 2,158 in Wilkinson County in middle Georgia, was named for William Washington Gordon, the first president of the Central Railroad and Banking Company. The town was Station No. 17 on the railroad.

Among other historic places in town are the old City Gordon Jail, built in 1917. It now houses the Wilkinson County Historical Society's History & Research Center. (Appointments may be made by calling 478-628-2946.) The 1853 Gordon City Cemetery is home to the original founders of Gordon and early business owners and their families.
Hours Open for Tours
First and third Saturday each month at 10 am - 4 pm
Phone, Address & Website Link
Phone:

478-628-2866 –

Address:

90 Jackson St., Gordon Georgia - See more pictures and info at website.
Loading

Print a Historic Heartland Travel Region Map

Historic Heartland Fun:

Festivals & Events

Free Indoor Activities

Free Outdoor Activities

Activities $5 & Under

Tourist Centers

Travel Region Info