MGeneral Information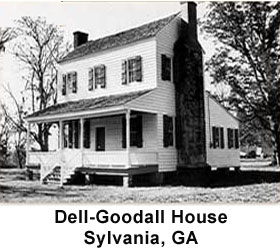 The Goodall home is located about six miles north of Sylvania on U. S. Highway 301. The house was built in 1815 for Seaborn Goodall, a prominent Jacksonborough citizen, who was clerk of Superior Court.

Jacksonborough was at that time the county seat of Screven County. The survival of the house is significant because it is the only structure left standing in Old Jacksonborough. According to history, this is due to a curse placed upon the town by Lorenzo Dow, an itinerant Methodist minister, who was run out of town by the "Rowdies." After being befriended by Seaborn Goodall, who gave Dow shelter for the night, the minister stopped on the bridge the next morning and asked God to place a curse upon the town with the exception of the Goodall home.
Within 20 years the town had ceased to exist. There were unexplained fires, mysterious winds that ripped roofs from houses, flash floods that emanated from the usually quiet creek. The curse was fulfilled by a variety of means, and the county seat was moved to Sylvania in 1847 after the town was virtually deserted. After 1870 the Goodall house belonged to the family of Dr. Julian P. Dell of Savannah, a retired Methodist Minister and has come to be known as the Dell-Goodall home.

The sturdy frame edifice was made of hand-hewed logs, with matched shoulders and hand-whittled peg construction. The Georgia pine used by the builder toughened long ago to rock-hardness. The house may be viewed down a long avenue of moss-draped trees. It was a handsome house at one time with gracious proportions and pleasing landscaping. General Sherman camped at the Goodall house overnight in his famous march to the sea.

The house was restored by the Brier Creek Chapter of the DAR.
Hours
Call for free tours.
Amenities
Parking and Accessibility for mobility-impaired.
Location and Website
Address:

US Hwy 301, State Rt. 24, Sylvania Georgia 30467 - The Goodall House Website

Print a Magnolia Midlands Travel Region Map

Magnolia Midlands Fun:

Festivals & Events

Free Indoor Activities

Free Outdoor Activities

Tourist Centers

Travel Region Info