General Info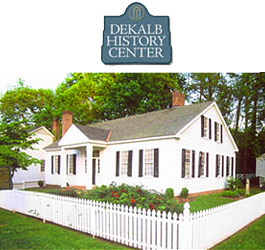 The History Center also maintains the Historic Complex located on West Trinity Place in Decatur that includes three antebellum structures: the Benjamin Swanton House, the Biffle Cabin and the Barber Cabin.

The DeKalb Historical Society (DHS) established in 1947, is the only organization dedicated to keeping the history of DeKalb County, Georgia through preservation, education and documentation.

DHS is one of the largest county-based historical societies in Georgia with a membership of over 1,200. In 2003, DHS expanded its role as a community resource by establishing the DeKalb History Center.



DHC Historic Complex



The DeKalb History Center maintains an historic complex at Adair Park on West Trinity Place. The historic complex includes three antebellum structures: the Benjamin Swanton House, the Biffle Cabin, and the Thomas-Barber Cabin.

The Swanton House, circa 1825, is the oldest building in Decatur and is included on the National Register of Historic Places. The house gets its name from Benjamin Franklin Swanton, who came to Decatur by way of Dahlonega and the Gold Rush of 1828. Among the tales surrounding the house is one of a Yankee soldier held captive in the upstairs closet under the eaves after the Battle of Atlanta.
Log Cabins
Log Cabins once abounded in rural DeKalb County and the DeKalb History Center maintains two log cabins at the Trinity Place Historic Complex.

The Biffle Cabin

, built between 1825 and 1840, was originally located on a knoll overlooking Barbashela Creek. This cabin was built by Revolutionary War veteran John Biffle, who was a native of Germany.



The Thomas-Barber Cabin

, which once served as a stagecoach stop on the Old McDonough Road in South DeKalb, was built by Hayden Thomas and his wife Sarah Margaret Staples Thomas, who moved here from South Carolina. The DeKalb History Center runs its Log Cabin Hour program and its History Camp at the Historic Complex.
Hours of Operation, Amenities & Fees
Open Monday - Friday at 9 am - 4 pm.

Appointments are required.

Use of the archives is free to all members of the community. Donations are welcome, as they help us defray the costs associated with our activities, including the maintenance of this website.

Free admission.
Contact, Address and Website
Phone:

404-373-1088 -

Location

: Old Courthouse on the Square, 101 E Court Square, Decatur, GA - Dekalb History Center Website

Atlanta Travel Region Printable Map

Metro Atlanta Activities

Festivals & Events

Free Indoor Activities

Free Outdoor Activities

Fun Activities $5 & Under

Tourist Centers

Travel Region Info