5.9 miles in length, this trail is suitable for ATVs and motorcycles. This trail loops around Davenport Mountain with some moderate grades, and offers views of Nottely Lake.
Davenport OHV Trail General Information
Trail Description:

This trail length is 5.9 miles. Some areas of this trail are recommended for riders accustomed to riding on flat to rolling terrain, young, or inexperienced riders. However, there are some very difficult areas in this ATV trail as well. This trail has an easy section, which is recommended for young or inexperienced riders. There are also sections marked as more difficult and most difficult. The trail crosses a road at two places. Watch for other vehicles on the road at these crossings. Click here to see a Davenport Trail Map.



Open Dates:

Mid-March until December 31 from sunrise to sunset. It is recommended to call before driving out.



Class of Vehicles Permitted:

ATVs and Motorcycles
Permit Fees:

1-Day Permit is $5 per operator per day. OHV Annual Pass is $50 per operator per year.



Restrictions:

Riders must stay on the OHV trail; cross-country riding or riding on the main road are not allowed. The Forest Annual Pass cannot be used on this trail system.



Closest Towns:

Blairsville, GA is 12 miles away.


Water:

None -

Restroom Facilities:

None
Contact & Directions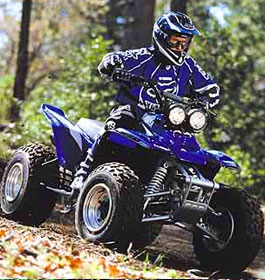 USDA Forest Service, Blue Ridge Ranger District -

Phone:

706-745-6928 -

Address:

2042 Highway 515 West, Blairsville, GA 30512 -

Office hours:

Monday - Friday at 8-12 & 1-4:30 pm



Chattahoochee-Oconee National Forests

-

Phone:

770 297-3000 -

Address:

1755 Cleveland Highway, Gainesville, GA 30501 -

Office hours:

Tuesday - Friday at 9 - 12 & 1-4 - Closed Saturday, Sunday, and Monday



Directions from Blairsville:

Beginning at the traffic light at the intersection of U.S. 76/Highway 515 and U.S. 19/129 in Blairsville, go west on U.S. 76/Highway 515 for 7.0 miles. Turn right onto GA 325 and go 2.3 miles to the STOP sign. Turn left, still on GA 325, and go 2.5 miles until you see a Christmas tree farm on the right. Go another 0.3 miles and turn right onto Davenport Mountain Road. At the foot of the hill, turn right onto Forest Service Road #143. Follow the gravel road 1.1 miles to the parking lot on your right. OHV trail begins at the back end of parking lot.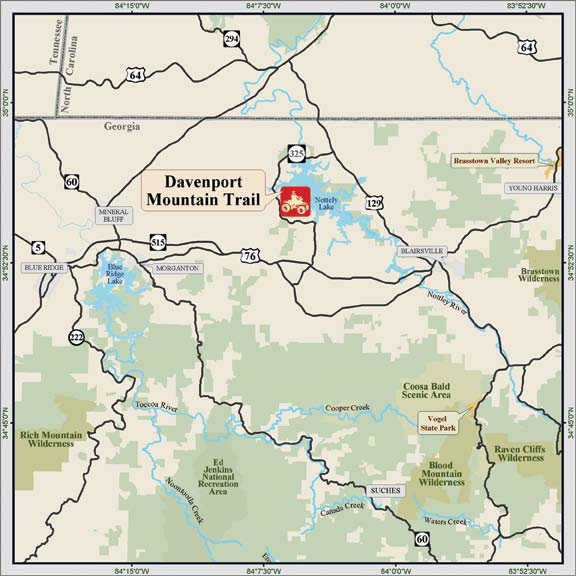 More GA US Forest Areas

Camping

Hiking

Horseback Riding Trails

Fishing

Canoe Trails

GA US Forest Wilderness

Wilderness Preparation

Canoe Safety Tips

Forest Safety Tips

GA U S Forest History