Experience the beauty of nature and wildlife in a relaxing and peaceful setting.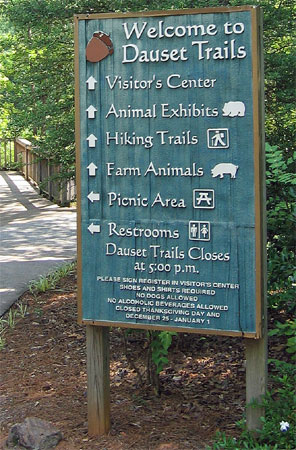 Mission: Dauset Trails Nature Center's mission is to provide quality environmental education, outdoor recreation, and an understanding of early farm life through close and intimate contact with Georgia's preserved flora and fauna.



Wildlife

- In the early 1980's, Dauset Trails was primarily a rehabilitation center for injured and orphaned wildlife. The animals were mainly native to the area and could not be released due to the severity of injuries. These animals were given exhibits for protection and display and gradually grew to become the Animal Trail.

The Animal Trail winds about half a mile through the woods rounding a small lake. It is easily accessible by foot, strollers, and wheelchairs. These animals are used to teach students of all ages the importance of each species and its role in our ever-changing world.

It is amazing how so many birds of prey are accidentally hit by vehicles. This happens mostly on rural back roads, highways and interstate roads. Some hawks have crashed through building windows. Some fall from nests.

Oftentimes, baby animals hiding in brushy areas are mistaken for orphans by well-meaning citizens. Fawn are frequently "helped" out by the public because the doe was not seen nearby. Sometimes a doe will leave her young hidden up to one day to search for better habitat.
Dauset Trails occasionally takes in animals that cannot be released and many calls are forwarded to local rehabbers and Noah's Ark, in Locust Grove, Georgia, to care for the majority of injured and orphaned wildlife.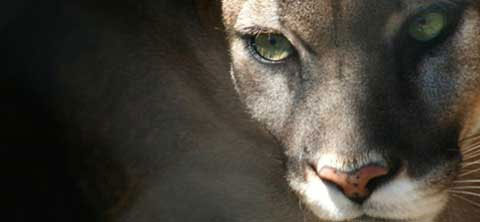 If reptiles are your main squeeze, then stop by the "Wonder Room" located in back of the Visitor's Center on ground level and discover live alligators, turtles, lizards and venomous and non-venomous snakes native to Georgia.

Or, if you like ducks, we have a nice variety of migratory waterfowl in the small lake behind the Visitor's Center. You can buy food to feed the ducks as well as the geese, big catfish, bream, and assorted turtles that live there. Now, if farm animals such as horses, mules, cows, goats, chickens and more excite your fancy, then mosey over to our barnyard exhibit and see all of the above.



More Things To Do




See the Animals. Walk the Animal Trail. Find hawks, owls, raccoons, bison, bobcats and more!



Visit the "Wonder Room". You will find alligators, turtles, snakes etc. behind the visitor's center.



See farm animals at our barnyard exhibit.



Feed big bream, catfish, turtles, ducks and seasonal Canada geese from a bridge.



Picnic on tables overlooking a scenic lake and woods.

Hike and Bike 17+ miles of multi-skill level trails through rocky, hilly woods, terraces, bottomlands and creeks. Great for bird-watching! Nature Trail Map



Horse Trails! Bring your own horse and ride 10 miles of scenic trail with creek crossing. These trails are separate from the hiking and biking trails. Horse Trail Head parking is on Lake Clark Rd., not Mt. Vernon Rd. Print directional map for location.



Enjoy the Woodland Garden and see native azaleas, perennials, bog garden, goldfish pond and more!



Get married at our Chapel with a beautiful lake view and have a reception at the Lake Pavilion or the Atrium by reservation only.



Family reunions at the Pavilion - a covered picnic shelter by reservation only.



Camping for organized groups only such as Scouts, 4-H, and church youth groups.
General Info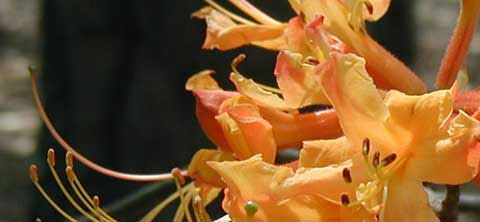 Open everyday from 9am-5pm. No admittance one hour before closing. Closed on some holidays. Call for guided tours.

Free admission and parking.

Donations are welcome.



Amenities:

Restrooms, Accessibility for mobility-impaired, Party Facilities.

Pets on leash are allowed only on hike and bike trails.



Phone

: 770-775-6798 -

Address

: 360 Mt. Vernon Ch. Rd., Jackson Georgia 30233 -

Directions:

From Atlanta: I-75 south to Highway 16 exit# 205 (Griffin/Jackson exit) Turn left, go 3.3 miles turn right onto High Falls Road. Follow approx 10 miles. Turn left onto Mt. Vernon Church Rd. Follow approx 5 miles, trail head is approx 300 yards before the entrance to the nature center. Dauset Trails Nature Center Website
Loading


Print a Travel Region Map

Historic Heartland Fun:

Festivals & Events

Free Indoor Activities

Tourist Centers

Travel Region Info