Located at the corner of Thomas and Dougherty Streets in historic downtown, it is Athens' oldest surviving residence. It is also known as the Athens Welcome Center.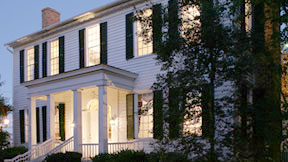 This two-story dwelling features a two-over-two room, central hall plan one room deep, built on an eight post frame. Influenced by the Federal Style, the house features an unusual soffit molding consisting of beveled-edge blocks of wood drilled with lines of holes. This molding appears to be a local interpretation of a Greek mutule.

In addition to an elliptical fanlight, flanking sidelights that terminate in a round arch give distinction to the entrance; most sidelights of the period were squareheaded. Moved an eighth of a mile from its original location on Hancock Street, the current building represents the original compact nucleus of the sprawling house that it had become. The interior stairway and the front porch are reconstructions of original features.

Alonzo Church, professor and subsequent president of the University of Georgia, initiated construction on the house after arriving in Athens in November 1819. Church never resided here, though, because he was persuaded to exchange houses with Dr. Moses Waddel, who occupied the house during his nine-year presidency of the University.
In 1934 Mrs. Sarah H. Harris purchased the building, which her great-granddaughters, the Misses Mary Harris Brumby and Anne Wallis Brumby, eventually inherited. The Brumby sisters, the house's last private owners, occupied the house until their deaths in the mid-1960s.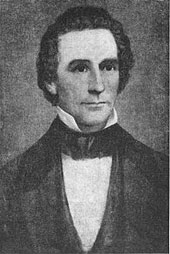 When the city's urban renewal plan threatened demolition of the house in that decade, concerned citizens formed the Athens-Clarke Heritage Foundation, Inc., and in 1967 saved the house by moving it to its new location on Dougherty Street. Before the move the complete dwelling was thoroughly documented in measured drawings on file with Heery & Heery, Architects.

In 1971 the city and the Athens-Clarke Heritage Foundation restored the house with matching funds from the Urban Renewal Administration of the U.S. Department of Housing and Urban Development. This was the first use of such funds for historic preservation in the southeast. The building currently serves as a welcome center and house museum, a cooperative venture of the Georgia Department of Industry, Trade, and Tourism, the Athens Chamber of Commerce, and the Athens-Clarke Heritage Foundation, Inc.

The Church-Waddel-Brumby House is listed on the National Register of Historic Places (February 20, 1975) and locally designated as a Historic Landmark (February 2, 1988).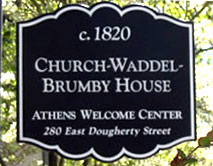 Amenities

: Parking, Restrooms, Accessibility for mobility-impaired, party facilities and gift shop.



Free admission and tours to museum.





Phone:

706-353-1820 –

Address:

The Athens Welcome Center, 280 E. Dougherty Street, Athens Georgia 30601



Open Dates and Hours

- Sunday at 12noon-5pm and Monday through Saturday at 10am-5pm.
Loading


Print a Historic Heartland Travel Region Map
Historic Heartland Fun:

Festivals & Events

Free Indoor Activities

Free Outdoor Activities

Tourist Centers

Travel Region Info