Fishing and Lake Info
"There are heartbeats in the wilderness. They share our moments in the mountains, in swamps, and in and on the waters of our land, wherever we might be. They are the large part of the reason we are there, whether with a camera, gun, fishing rod, or pack sack on." Charlie Elliott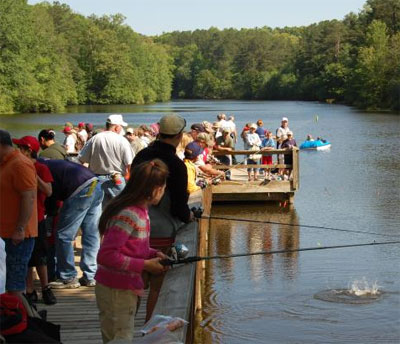 Facilities: 6400 acres in size. This wildlife center features kids only ponds, concrete boat ramps (6 lakes), boat docks, restrooms, fishing piers, picnic areas, primitive camping, some fishing areas accessible to persons with disabilities. Charlie Elliott Wildlife Center also has a network of hiking trails available to visitors.

Free admission and parking.





Amenities:

Restrooms, Accessibility for mobility-impaired (limited). Conference Center, Pavilions and Banguet Center Party Facilities (for a small fee).



Fish Species:

Largemouth bass, bluegill, redear sunfish, channel catfish and crappie.



Water:

15 ponds that range in size from 1 to 95 acres. Lake Margery, Bennett and Fox offer anglers a chance to target two of the most popular fish at Marben PFA, the largemouth bass and crappie. Each lake offers anglers ample shoreline for fishing flooded timber and deep water to test their skills. When targeting bass, use top-water baits in early morning along the shoreline and thicker brush.

Often times, bass will suspend in thicker cover waiting to ambush prey. In late afternoon, try using deep diving crank baits in the flooded timber. Flooded timber provides shade for bass and will concentrate these fish as water temperatures rise. Crappie tend to utilize deeper water and shade from flooded timber in the lake. A good technique is fishing yellow or pink jigs in these habitats to target these suspended fish.

Bluegill and shellcrackers (bream) are abundant in most lakes at Marben PFA. If targeting these fish, April through June are the best times. Because they are hard fighting, will hit a variety of baits and are easily caught, they are an extremely popular fish targeted at Marben PFA. Bream occupy a variety of cover from sandy, hard bottoms to flooded timber.
Targeting these areas is easy from the bank or boat. Once water temperatures rise, bream move into shallow water to spawn. Try fishing crickets or earthworms just at or on the bottom in these areas. Bream aggressively guard the nests and are easily caught during these times.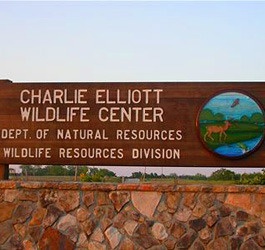 When the bluegill aren't bedding, try casting small artificial lures, spinners and top-water poppers around the shallow edges. Channel catfish are another sought-after fish. Deepwater habitats, using earthworms or liver, is the most productive technique when targeting these fish.

15 different lakes comprise Marben PFA, making this area extremely unique. Water temperatures will differ from lake to lake in early spring and late fall. This makes for unique opportunities for beginning or advanced anglers. Remember, no live minnows are allowed at Marben PFA.



Note:

A fish attractor consisting of PVC pipe and other components was installed near the fishing pier at Margery Lake and is accessible to boat and bank anglers. Additional fish attractors of this type are planned in other ponds and shoreline habitat improvement, such as felling trees, is underway.

For more general fishing information, check the information board or stop by the Visitor Center off Elliott Trail during operating hours (Tues. - Sat. 9 a.m. - 4:30 p.m.).
Recreation Activities
The 6,400-acre Charlie Elliott Wildlife Center, managed by the Georgia Department of Natural Resources, offers a variety of activities and programs. This beautiful area is centrally located in the state in a beautiful wooded setting near Mansfield, Georgia. It is easily accessible from Atlanta, Athens and Macon.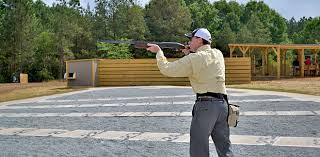 Some activities include:

Fishing

Hunting

Hiking & Biking

Archery Range

Self-Guided Driving Tours

Shooting Range (Range rules)

Bird Watching

Boat Access

Horseback Riding

Picnicking

Primitive Camping

Business or Other Meeting Accommodations

Conference Center Facility

Banquet Hall

Children's Education Programs

Teacher Education Programs

Check out more Charlie Elliott Wildlife Center recreational info.

See

Georgia PFA Info and Regulations page.
Licensing
To help cover the costs of maintaining these great resources, visitors (ages 16-64)

must have one of the following

to access Public Fishing Areas except for Rocky Mountain PFA:


3-day hunting/fishing license


Wildlife Management Area license


Sportsman's, Honorary or Lifetime license


Georgia Outdoor Recreational Pass (GORP)
To purchase a GORP pass, click HERE
Contact, Address and Directions
Telephone:

770-784-3059 -

Address:

543 Elliott Trail, Mansfield, GA 30055 -

Directions from Mansfield Georgia:

Take GA Hwy 11 S for 2.7 miles; left on Marben Farms Rd. (Co. Rd. 229), follow signs.

Located

in Jasper and Newton Counties.

Charlie Elliott Center:

PFA Boat Ramps

Recreational Activities

Onsite Ed Programs

Teacher Ed-Project WILD

Check These Out:

GA Public Fishing Areas

Fishing Trip Check List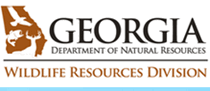 GA Wildlife Areas:

Bird Watching

Public Fishing Areas (PFA)

Horseback Riding

Fish Hatcheries

Archery & Firearms Ranges

Range Rules
License & Regulations:

PFA

Hunting