Central Park

is an 85-acre sports complex providing a variety of recreational opportunities. It features a 1-acre playground facility with safe play structures for all ages. The park has 5-Youth Baseball-Softball Fields, 4 Adult Softball Fields, 3 Soccer Fields, 8 Tennis Courts, 27-Hole Disc Golf Course, Playground, Picnic Pavilion, Mountain Bike Trail & Recreation Center. The Recreation Center includes 2-Gymnasiums, Fitness Area, Mezzanine Walking Area, Arts & Crafts Room, Dance Room, Community-Meeting Rooms with a small Kitchen. Join the workout area! Fitness memberships are available for ages 16 and up.

This is a top notch Forsyth County Park sports complex. It's also a great place to take your family and friends for a day outing.

Admission and parking are free.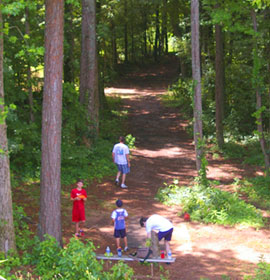 Central Park Mountain Bike Trail Information

Trail is 3.75 miles


It has beginner, intermediate and advanced features.


It opens at daylight and closes at 11 pm



Trail Rules




The trail is open for mountain biking only! No walking or running on trail. If found on foot, you will be asked to leave or receive a ticket.



No helmet, no ride!



There is only one access point for the trail and that is from the Kiosk area.



Dogs are not permitted anywhere on the trail.



Always be courteous when passing others.



No unarthorized trail building on XC Trail or in Freeride Park



Be courteous to disc golfers and yield to throwers.



Donations are not required but are appreciated. Donations are given to the trail building volunteer group.



Trail is closed during rain and 24 hours after rain.



If in doubt all ways call ahead!

Rain out Line is 770-886-2851, at voice prompt press "4"

Trail Conditions explained at: http://morcmtb.org/morcpages/cond1.htm
Hours, Phone and Address
Open

: Mon - Thurs 7 am - 9 pm, Fri 7 am - 7 pm, Sat, 10 am - 6 pm, and Sunday, 2 - 6 pm.

Phone

: 678-455-8540 -

Address

: 2300 Keith Bridge Road, Cumming, Georgia 30040
Loading


Dickie "Done Right" Tile Services - Residential and Commercial


Georgia County Parks