General Info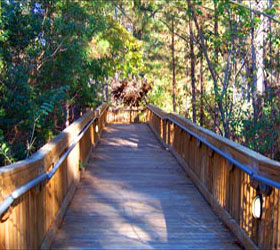 Watch the eagles take flight, touch our lime-green friend, Monty the Python, or explore the different habitats of raptors, reptiles and mammals at the Center for Wildlife Education and the Lamar Q Ball Jr. Raptor Center. With more than five acres featuring diverse habitats and species, an amphitheater, and an indoor classroom, get ready to take a walk on the wild side!

The Center features: Brand New 12-acre Wetland Preserve that includes a small pond and capture basin that houses a beaver lodge, a cypress pond that will be home to a variety of wading birds like herons and egrets, and a waterfowl pond. Numerous resident species of birds of prey including eagles, hawks, owls, falcons, kestrels, vultures and more! Exhibits of reptiles and amphibians such as alligators, turtles, tortoises, rattlesnakes, corn snakes, king snakes, boa constrictors, pythons and many more.

On Saturdays don't miss our flighted raptor demonstrations (weather permitting) or you can just stroll along our Self-guided nature walks, and visit the Children's Discovery Trail. We also feature a newly remodeled Lecture Hall, Classroom, an Ecology Pavilion, and a 120-seat amphitheater.

Admission is $2 for adults and $1 for children (3-11), active military & senior citizens. For more information, please call 912-478-0831.
Self-Guided iPod Tours
iPods featuring a comprehensive audio and video tour of the Center for Wildlife Education and the Lamar Q Ball, Jr. Raptor Center are available for rent in the Wildlife Center Gift Shop. The iPod tour is designed to guide you through all the venues at the Wildlife Center, allowing you to leisurely explore each at your own pace. Discovery the history of the Center, the fascinating animals that call it home, all the while easily navigating its 18 beautifully landscaped acres. Parking passes for visitors are available in the Center's gift shop.
Weekday Programs - 9 am - 5 pm
A 30-minute wildlife program is held in Center's Lecture Hall each weekday beginning at 3:30 pm.



Monday – Mammals

- Soft & Cuddly, Hairless & Smelly!! Join us for an exciting hands-on mammal experience!!



Tuesday - Native Reptiles

- Dry, Wiggly, & Scaly!! Explore the native reptiles of Georgia that you would see in your own backyard!!!



Wednesday - Amphibians

- Cold & Wet, Slimy and Slippery!! Let our slimy, wet friends slip right into your hearts!!



Thursday - Native Raptors

- Powerful predators of the sky!! Enjoy an up-close and personal visit from a few of our native feathered friends!



Friday - Non-Native & Exotics

- Be wowed by non-native and exotic animals of the world!!

For more information on the daily themed programs please contact the Center at 912-478-0831.



Additional Info:

Reptile shows are at 2 p.m. and flighted raptor shows are at 3 p.m. on Saturdays. Fees are $1-$2 per person. Parking is free.
On-site Programs
Down-To-Earth Encounter

- This is a hands-on experience highlighting three important Georgia ecosystems. Visitors explore, locate and identify, with the help of our exhibit field guide, more than 50 different species of wildlife.



Guided Habitat Walkway Tour

- Your group will enjoy a walking tour of 8 habitat stations with live birds of prey on exhibit. The ecosystems and the ecology of the birds themselves are discussed and explained.



Gift Shop

- The Wildlife Center Gift Shop carries a wide variety of items, all with a wildlife theme. All Items are priced to the penny with tax included. For groups of very young children the Wildlife Center will provide gift bags for each child so that each child gets a little something to take home. Gift bag prices start at $0.25.



Flighted Raptor Demonstration

- Raptors are brought before the audience in the amphitheater on the fist and then presented in a flight demonstration. Hawks, owls, and falcons are all a part of the cast, but working with animals is an adventure, so the script changes daily.



Children's Discovery Trail

- This winding adventure trail takes visitors past interesting stations with all manner of natural artifacts. Snake skins, turtle shells and deer antlers, as well as frog and snake skeletons, owl pellets, birds' nests, and turtle eggs are on display. Also on display is an opossum and skunk exhibit, along with a kid's eagle nest.



Ecology Pavilion

- The open air pavilion seats 120 visitors for lunch or for educational programs. The Pavilion must be reserved in advance.
Amenities and Hours
Amenities:

Parking, Public Restrooms, Accessibility for mobility-impaired and party facilities.

Open

Mon - Fri at 9 am - 4:45 pm and Saturday 1-5 pm. Closed Sunday.
Phone, Address & Website
Phone

: 912-478-0831 -

Address

: 240 Forest Dr. Georgia Southern University, Statesboro Georgia 30458 -

Located

on Georgia Southern University's campus and directly off Hwy. 301- Center for Wildlife Education and the Lamar Q Ball, Jr. Raptor Center Website
Loading

Print a Travel Region Map

Magnolia Midlands Fun:

Festivals & Events

Free Indoor Activities

Tourist Centers

Travel Region Info