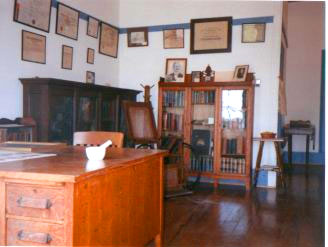 Housed in an authentic medical office from the late 1800s, this unique museum recreates a country doctor's practice with tools for surgery, dentistry and eye exams. Was there really once a doctor who set broken bones, delivered babies, performed all types of surgery, and came to his patients' homes at any hour of the day or night? In our sophisticated, automated, and specialized age, the family doctor who treated all illnesses has almost been forgotten except in Winterville, GA, home of the Carter-Coile Country Doctor's Memorial museum.

Housed in a white clapboard building that once was the office of Dr. Warren Carter and later Dr. Frank Coile, it is possibly the only museum in the state, and one of the few in the country, that honors the country doctor. The building was restored through donations from former patients and friends of the late Dr. Coile.

Dr. Carter graduated from a medical college in Atlanta around 1870, and opened his office in the small building when it was located on town square (on a lot near the street, in front of the present Winterville Police Dept.). Dr. Coile moved into the building later, when his office burned. The diplomas of both men are on display inside the museum.
Other items on display included equipment from the estate of the late Dr. A. J. Griffeth of Comer, Georgia, who practiced medicine about the same time as Drs. Carter and Coile practiced. Equipment from the office of Dr. J.A. Nabers, who was raised in Winterville, is on display, as well as an examining table from the office of Dr. Gustav Canning.

Many former Winterville residents may remember the long operating table in the back room of the museum. Dr. Coile used this for setting broken bones and for examinations.

Photographs, books, and various surgical tools have been donated by Winterville natives who have doctors in their families, or by families of doctors who actually practiced in Winterville. Also on display are some parts of human anatomy, various medicine bottles, and a set of dentists' utensils. A copy of Maclise's Surgical Anatomy, copyright 1870, is in the museum. There are two companion books with curious titles: The Physician's Wife and Things that Pertain to her Life, by Ellen M. firebaugh, and Book on The Physician Himself and Things that Concern His Reputation and Success, by D.W. Cathell, M.D.

The sign on the front door of the museum was once the time table for the old Winterville depot. Eulalia Amos of Winterville preserved it and painted it for use as a marker for the museum.

Thanks to the generous gifts of concerned friends, this little museum has become an interesting and educational place to visit. A special gift of $300.00 was donated in honor of a Winterville teacher, Maggie J. Matthews, by her former pupils. There are many more gifts too numerous to mention, but they all show the love and care of the Winterville citizens for the country doctors of the community who served them for so many years.

In the early 1970s, when the doctors' museum was established, the Board of trustees members were: Mrs. C. Spurgeon Coile, Mr. William H. Harris, Mr. and Mrs. Claude Q. Norris, Mr. Ernest Pittard, Mr. Courtney B. Spratlin, and Mrs. Wesley Whitehead, Jr.--from an early 1970s Winterville Ice Berg, author not stated.



Amenities:

Parking - Call for tours.

There is no charge for tours, but donations are always appreciated.
Phone & Address
Phone:

706-742-8600 –

Address:

Downtown Winterville Georgia 30683
Loading

Print a Historic Heartland Travel Region Map

Historic Heartland Fun:

Festivals & Events

Free Indoor Activities

Free Outdoor Activities

Activities $5 & Under

Tourist Centers

Travel Region Info