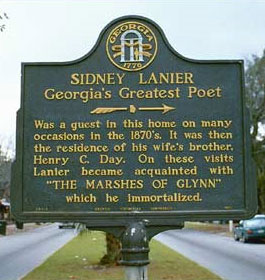 Lanier's Oak Marker Inscription Reads:
LANIER'S OAK
during his visits to Brunswick in the 1870's Sidney Lanier, Georgia's greatest poet, frequently sat beneath this live oak tree and look out over "a world of marsh that borders a world of sea." Here he received the inspoiration which resulted in some of his finest poems.

Of these the best know is "The Marshes of Glynn"



The Sidney Lanier marker Inscription Reads:


SIDNEY LANIER
Georgia's Greatest Poet

Was a guest in this home on many occasions in the 1870's. It was then the residence of his wife's brother, Henry C. Day. On these visits Lanier became acquainted with "THE MARSHES OF GLYNN" which he immortalized.
In Brunswick, the oak tree where Sidney Lanier once relaxed by the edge of the marsh was soon dubbed Lanier's Oak. Today, this tree may be seen on Highway 17, north of the foot of Gloucester Street, and includes a marker that commemorates Lanier.

The Marshes of Glynn became a highly acclaimed poem and Sidney Lanier made plans to write a series of poems entitled Hymns of the Marshes. Ultimately though, only a few in the series were composed. Throughout the 1900s children living in Georgia were required to memorize the poem by heart and real estate proprietor Bill Brown explains that it was once mandatory for all pupils at Glynn Academy High School to learn the poem.
The Georgia poet Sidney Lanier was born in Macon, Georgia. He was a graduate from Oglethorpe University. He planeed to go to graduate school in Germany, but joined the Confederates in the Civil War instead. He was captured and spent four years in a Union prison. Both his health and his wealth were ruined by the Civil War.

In 1874 he visited with relatives in Brunswick to regain his health. He would rest under a great live oak tree overlooking the salt marshes he made famous in his Marshes of Glynn. Lanier's Oak is located in the median of US 17 about 0.4 miles south of the F. J. Torras Causeway leading to St. Simons. The place must have done something good for Lanier because he went on to lecture on English literature at Johns Hopkins in Baltimore, Maryland. He died in 1881.
Contact, Address and Map
Phone:

912-265-0620 or

toll free

800-933-2627 -

Location

Marker is on Ocean Highway (U.S. 17) 0.4 miles south of St Simons Island Causeway, in the median in Brunswick Georgia
Visit:

Georgia Coast and Islands National Parks


Georgia Coast and Islands

Georgia Coast Events

Coast Free Things To Do

GA Coast Fishing Lakes

GA Coast Museums

Georgia Coast Shopping

GA Coast and Islands Map & Travel Region