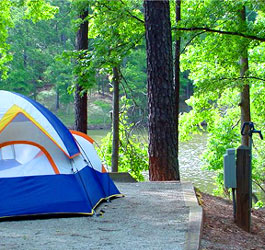 This pretty 665-acre park offers watersports enthusiasts a quiet oasis on 70,000-acre Clarks Hill Lake.

Located where the old town of Petersburg once thrived during the 1790s, the park is named in memory of Lt. Robert T. Brown, U.S. Navy, who gave his life in World War II. Petersburg was situated where the Broad and Savannah rivers flow into the Clarks Hill Reservoir, now an outstanding state recreational area.

When water levels are low, visitors can see some foundations of the old town and imagine large plantations once flourishing. The park's location on the largest man-made lake east of the Mississippi River provides excellent boating, skiing and fishing. The park's self-guided Land Navigation Courses teach beginners how to use a compass.



Park Amenities

61 tent, RV, trailer campsites

fishing

boat ramp

boat dock

private boats allowed

70,000-acre Clarks Hill Lake

1.9-mile hiking trail

self-guided compass course
Campgrounds
Campsite Self-Registration

- Seasonal camping during March 15 through September 15 at Bobby Brown Outdoor Recreation Area.



To reserve a campsite on a first come, first serve basis:


Once you arrive at the park's camping area there will be a lock box with envelops, similar to the ones in the parking areas for ParkPass fees. Simply enclose the appropriate fee in the envelop, place it in the lock box and proceed to your campsite. Electrical hook-ups, pumping stations and comfort stations will be operational at the site during the camping season.
General Info
NOTICE:

Bobby Brown State Park is now operating as a State Outdoor Recreation Area. The campground will be self-reservation only on a first-come, first-served basis and will open seasonally (March 15 - September 15). Electrical hook-ups, a comfort station and pumping station are available. Day-use boat ramp at this park will remain open year-long.

There is not an on-site park ranger but law enforcement personnel make regular rounds. There are no on-site camp store services. The nearest location for ice and sundries is at the Quick Stop about 10-miles northwest on Calhoun Falls Highway in Elberton. The day-use boat ramp will remain open year-round. For more information about Bobby Brown State Outdoor Recreation Area call Elijah Clark State Park at 706-359-3458.
Hours and Fees - Contact, Address and Driving Directions Info
Park Hours

- 7 am - 10 pm -

$5

Parking Fee.

Phone:

706-359-3458 (Elijah Clark State Park) at 8 am - 5 pm

Address:

2509 Bobby Brown State Park Rd., Elberton Georgia 30635 -

GPS Coordinates

are N 33.978500 and W -082.588100 -

Located

21 miles southeast of Elberton off Georgia Hwy 72. State Park Facilities Map
Loading

Check Out:

State Park Waterfalls

State Park Fishing Tackle Loaner, Free Park Pass Loan and Jr. Ranger Gopher Badge Programs

Walk on the Wild Side