General Info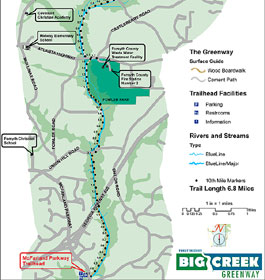 A greenway is a linear park. It is about conservation, recreation, environmental education and alternative transportation. Our greenway is an investment in the future of Forsyth County, a county with open green spaces for people as well as natural areas for plants and animals.

Phases 1, 2 and 3 of the Big Creek Greenway in Forsyth County, from McFarland Parkway to Bethelview Road, are now open and span approximately 6.8 miles (click here to see a map of Phases 1, 2 and 3). The exact design and location of Phases 4 and 5 are currently being developed. When all five phases are completed, the greenway will span approximately 15 miles in Forsyth County.



Access to the Greenway


A trail head access point at 5120 Bethelview Road offers limited parking and serves as an excellent place to begin your adventure. A temporary trail head is located at Exit 12, east of Highway 400 on McFarland Parkway and accommodates approximately 50 vehicles.

A trail head is also located at Fowler Park, located in south Forsyth County at 4110 Carolene Way, off of Atlanta Highway across from the intersection with Castleberry Road. Please note: Visitors to Fowler Park should utilize the parking lots for their vehicles. Please do not park along Carolene Way.



Hours Open

- These areas will be open from dawn to dusk. Nearby residents are encouraged to walk or cycle to these locations.
Greenway Rules and Safety-Etiquette Tips
• Use trail only during daylight hours
• No littering
• No smoking
• No alcohol or drugs
• No off-road vehicles or golf carts
• No horseback riding
• No camping off of greenway
• All pets on a leash
• Pedestrians have the right of way
• Greenway is not designed for high-speed use; please do not exceed 15 mph
• Please self-monitor your speed by not exceeding 110 feet in 5 seconds
• Per Georgia law, no person under the age of 16 years shall operate or be a passenger on a bicycle on a highway, bicycle path, or sidewalk under the jurisdiction or control of this state or any local political subdivision thereof without wearing a bicycle helmet.



Greenway Safety & Etiquette Tips


• Use the trail only during daylight hours.
• Do not leave valuables in your vehicle.
• Stay on the trail surface.
• Stop, look and yield to traffic at crossings.
• Cyclists and skaters should wear helmets.
• Visitors are encouraged to use the buddy system and use the trail in pairs or groups.
• Be courteous and respectful to other users.
• Respect the privacy of adjacent landowners.
• Travel in a consistent and predictable manner.
• Clean up your litter - help keep the trail clean for others.
• Keep right as you use the trail. Pass on the left and give a courteous and audible signal of your intention to pass.
Contact & Map - pdf download file
Phone:

770-781-2215 - Big Creek Greenway Map
Loading