Bear Hollow is in Memorial Park, a 72-acre park with a playground, dog park, picnic shelters, lake, swimming pool, nature trails and zoo. It is home to over 120 species of native animals.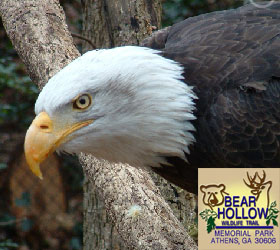 Nestled in the heart of Five Points, Memorial Park is a favorite destination for old and young alike. The seventy-two acre facility boasts a swimming pool, three-acre lake, playground, and the Birchmore Trail. Additionally, Bear Hollow Wildlife Trail and Athens Creative Theatre are located at the park.

Bear Hollow is a popular place for families to come and see Georgia's native wildlife. Every Sunday from 1 to 4pm, the exhibit hall is open to the public, featuring projects for our younger visitors and live animals to see and touch.



Wildlife at Bear Hollow include:

Black bear, bald eagle, bobcat, river otter, white-tail deer, woodchuck, american alligator, rat snakes, eastern indigo snake, barred tiger salamander, eastern kingsnake, gopher tortoise, corn snake, barn own, barred owl, golden eagle, great horned owl, red-tailed hawk, screech owl and wild turkey.

Bear Hollow is a facility of the Athens-Clarke County Department of Leisure Services. The mission of the facility is to help the community understand our place in and reliance upon natural systems through interpretive education and the use of Georgia's native wildlife.



Free admission and parking.





Amenities:

Parking, Public Restrooms, Accessibility for mobility-impaired, Party Facilities.
Hours of Operation
Offices open Monday through Friday from 8 am to 5 pm. Park open daily, 9 am - 6 pm. Zoo is open daily from 9 am to 15 minutes before sunset. The Wildlife Trail is is open daily 9 a.m. to sunset.
Contact - Address & Website
Phone:

706-613-3616 -

Address:

293 Gran Ellen Dr., Athens Georgia 30606 - Bear Hollow Wildlife Trail at Memorial Park Website


Print a Travel Region Map

Visit Historic Heartland:

Festivals & Events

Free Indoor Activities

Activities $5 & Under

Tourist Centers

Travel Region Info