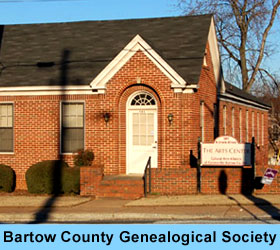 Searching for your Cass/Bartow Ancestors? Volunteers are available to assist you with genealogical research.





Historical and General Info

The Family Research Library has over 3000 research tools including all of Cass/Bartow County Census records on hard cover and microfilm.

Confederate Records on file, Old newspapers of Cass/Bartow on microfilm. 11 1/2 inch binders and microfiche of funeral records from Parnick Jennings & Owens Funeral Homes.

Many books on families that have been printed and donated to the library. Some very old family manuscripts are available. 7 drawers of family histories and quarterlies from all over the United States. We are collecting all of the county heritage books and a large collection of cemetery books from other counties as well.

The Family Research Library grows with donations of its members and others. All donations are greatly appreciated and we hope to link Bartow County to the rest of the world.

Genealogy is a link that connects the past and present of a family's history. It is a connection that joins people together. As researchers, we value and cherish the courage of the men and women who have made this site possible. We honor the memory of those who have lived here before us. We desire to preserve their history and cultural heritage, and to keep their spirit alive. We remember and respect all the pioneers of this county, and the all people who came later.

We have learned that those who have requested our services are among the most discerning and quality-conscious people on the planet. Fortunately, our knowledge of this county and our research skills has enabled us to consistently live up to your standards.
We are a small group of researchers who understand that trust is built over the passage of time. Although we are few in numbers, our personal attention to the details of your research goals has enabled us to compare favorably with much larger organizations.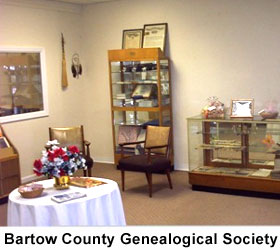 Sometimes we feel overwhelmed by the response we have received from others. Sometimes it is difficult to keep up with everyone's needs and wishes.

Nevertheless, we sincerely want to do our best to build strong and enduring relationships with other family historians who are interested in genealogy. Our desire is to be known among our peers everywhere as the premier researchers in this area. If we are doing our job well, our credibility comes through loud and clear with every contact you have with us. We sincerely want to make our web site shine in a way that proudly promotes our heritage and conveys the simple beauty and majesty of Bartow County.



Free admission and parking.





Museum Hours of Operation

- Wednesday Friday 10 AM - 3 PM



Phone:

770-606-0706 –

Address:

101 North Erwin St., Cartersville Georgia 30120 - Bartow County Genealogical Society Website


Print a Travel Region Map

More Historic High Country Region Activities

Festivals & Events

Free Indoor Activities


Free Outdoor Activities

Tourist Centers

Travel Region Info