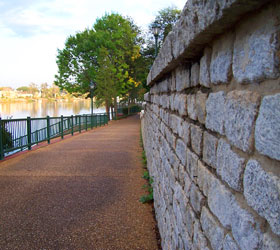 Stroll along multilevel walkways by the Savannah River to the Jessye Norman Amphitheater and Heroes' Overlook memorial, museums and parks.

One of Augusta's finest attractions located directly on the beautiful Savannah River. Take a stroll down the shaded sidewalks of the riverwalk that line the Savannah River and enjoy what downtown Augusta has to offer.

The Augusta Riverwalk is located in downtown Augusta which has a rich history of being a thriving industrial area.The creation of the Augusta canal allowed large textile mills to be constructed in downtown Augusta. Many of the old mills still stand. The Augusta Riverwalk history is full of significant floods that frequently threatened downtown Augusta. Today, Augusta is protected from floods by a large dam 10 miles upstream.
Many events are held each year at the Augusta Riverwalk. Each year there is a large St. Patrick's Day Celebration, movies shown at the common area, fireworks display on the 4th of July and many more events. Also, the Tour De Georgia, a 650 mile professional cycling event ends in downtown Augusta each year. Check the Augusta Riverwalk events page to see upcoming events.

The cool breeze from the Savannah River provides the perfect place for a picnic or go for a stroll under the shade trees. Next time you are in Augusta, be sure to check out the Augusta Riverwalk. Open daily.



Amenities:

parking, restrooms, accessibility for mobility-impaired, food and party facilities.



Phone:

706-821-1754 –

Located:

Between Sixth and Tenth Sts., Augusta Georgia 30901 - Visit the Augusta Riverwalk Website


Classic South GA Travel Region Printable Map
Classic South Fun:

Festivals & Events

Free Indoor Activities

Fun Activities $5 & Under

Tourist Centers

Travel Region Info