Enjoy 115 acres of scenic wildlife area woodland, wetland, meadow habitats and wildlife habitat gardens along the Alcovy River.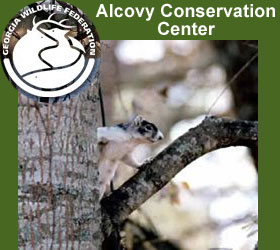 Walk through our forest along Dogwood trail, as it takes you to the edge of our Tupelo Gum river swamp, along the Alcovy River.

Using the magnificent Alcovy River & Swamps as an interpretive backdrop, the Alcovy Conservation Center provides quality education and training opportunities for these leaders who will deliver the conservation message to the next generation. To date, workshops hosted at the ACC include an issue summit on water policy and habitat steward, hunter safety, and EcoWatch trainings.

This Center means great things for the future of GWF. It doesn't change our focus, but it increases our ability to accomplish our mission. GWF remains dedicated to environmental education, sportsmen's issues, and land conservation. The Alcovy Conservation Center allows GWF to deliver our message more effectively to more people - to truly be the community service organization we were designed to be.

The main building complex contains 15,000 square feet of office, lecture, classroom and library space, surrounded by native plant gardens. Situated on 115-acres along the Alcovy River, other facilities on the site include pavilions, an executive retreat house, and a quaint log cabin.
Scenic wildlife areas

include woodland, wetland, and meadow habitats, as well as demonstration wildlife habitat gardens. Amble through our forest along Dogwood trail, as it takes you to the edge of our Tupelo Gum river swamp, along the Alcovy River. Deer, fox squirrel, otter, and a variety of songbirds are just a few of our year-round residents.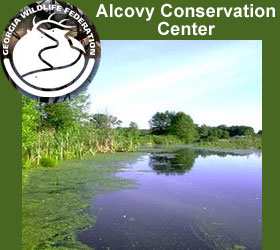 Recycling

is an easy way to take an active role in caring for our world. Many city and county governments offer curbside recycling programs or recycling centers. Call your local sanitation department to see how easy recycling can be in your area. Here at the ACC, we recycle plastics, glass and paper.



Free admission and parking.

Call before visiting to ensure that someone from the Georgia Wildlife Federation staff is there.



Amenities:

Restrooms, Accessibility for mobility-impaired, party facilities.

Open

Monday-Friday at 8 am - 5 pm.



Visitors must check

in with the front office upon arrival and departure. Gates close promptly at 5 pm. Weekend and after-hour visits must be coordinated through property rental agreements. Children under 16 must be accompanied by
an adult.

Click here to see a .pdf map and brochure of the Alcovy Conservation Center.



Phone:

770-787-7887 -

Address:

11600 Hazelbrand Road, Covington, GA 30014 -

Directions from Atlanta:

Take I-20 East past the exits for Covington to Hazelbrand Road, Exit #93. Turn left off the exit ramp. Cross back over the Interstate, and turn right onto Hazelbrand Road (at the intersection with Home Depot). Travel approximately 1.5 miles. Cross over the Cornish Creek Bridge, and turn right into our driveway (across from the Hazelbrand Road Recycling Center). - Alcovy Conservation Center Website


Print a Historic Heartland Georgia Travel Region Map

Historic Heartland Fun:

Festivals & Events

Free Indoor Activities

Tourist Centers

Travel Region Info