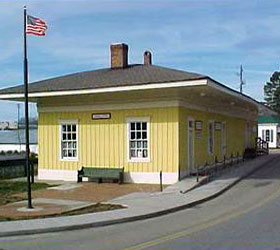 Visitor information, historical displays and more are at the town's 1847 railroad depot.



Some fighting as Johnston made a brief stand near here May 17 then withdrew to the Cassville area. Andrews Raiders passed through two years earlier during the Great Locomotive Chase. The Chase is commemorated with an annual downtown festival the first weekend of October.

The Adairsville Rail Depot Age of Steam Museum is located in the restored Depot building on Public Square in historic downtown Adairsville, Georgia. The building had been practically abandoned for many years after the railroad stopped passenger, freight service here in the late 1960's.

Since then, it had been occasionally used as storage. This is what saved the depot from demolition.
Former Mayor of Adairsville Georgia, and local businessman, Bill Penfield, had used the depot as a place to store the carpet overflow from his business on Railroad Street. Learning that the depot had been slated for demolition by the railroad, Mr. Penfield and his wife, Pansy, began a campaign to save it.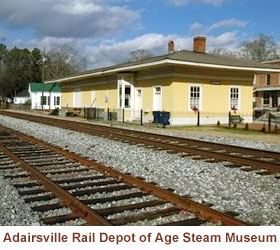 They spent much time communicating with the railroad company and the City of Adairsville Georgia. Eventually, through their efforts, and the efforts of the City, and other concerned citizens, the depot was saved, a federal grant was obtained, and the building was beautifully restored. It now houses, not only the museum, but also the Adairsville Welcome Center (a division of the Cartersville/Bartow County Convention and Visitors Bureau).



Open

Wednesday and Friday at 11am until 3pm, and Saturday at 11am until 4pm.



Free admission and parking.





Phone:

770-773-1775 -

Address:

101 Public Square, Adairsville Georgia 30103



Directions

: Take Interstate 75 to the 306 exit. Proceed West on Highway 140. Go straight at the light, across US Hwy. 41, to next left (Main Street). Left on Main approximately ½ mile to Public Square. Note: Public Square is one-way, northbound on upper level, and southbound on lower level.


Print a Historic High Country Travel Region Map



Historic High Country:


Festivals & Events

Free Indoor Activities


Free Outdoor Activities

Tourist Centers

Travel Region Info