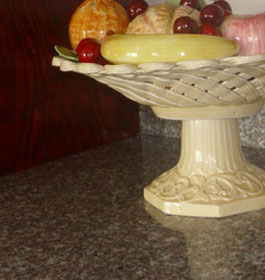 Granite is a tough, durable igneous stone, hence its popularity as a kitchen countertop material. In its formation it cools slowly, enabling large crystals of quartz and feldspar to form; this is responsible for its much-loved pepper-pot appearance. Granite comes in a variety of different colors and patterns so it is important to take some time to decide on the right slab for you.



1. Size your kitchen island to fit the slabs

- If you are building a kitchen from scratch, find out what granite slab sizes are available and size your kitchen island accordingly. If your kitchen island is too big for the available slabs, you will need to join slabs together, leaving a noticeable seam and spoiling the overall effect.



2. Spend time choosing the right color

- Choosing the right color and pattern of granite to enhance your kitchen is worth spending some time on. You will have to use your kitchen for many years so you want a countertop that is both attractive in its own right and ties in with the rest of your kitchen decor. If you are building a new kitchen, or completely redesigning, try to get together some color samples of your floor and kitchen units. Take them to a decent distributor's warehouse and try them against different slabs. Find a distributor who displays full slabs rather than sample strips.

After you have provisionally chosen your stone, arrange to visit the fabricator after your measuring has been done. Ideally, you will be able to instruct the fabricator which actual slab you want. Granite contains natural variations in pattern and color, and each individual slab will differ.
3. Consider sealing your countertop

- After your purchase, applying a solvent-based sealant will increase your countertop's protection against spillages, giving you extra time to mop up. Sealants vary in their durability but you can typically expect to re-coat every two to three years.



4. Clean spills immediately

- Don't wait until the end of the day to mop up spilled foods, especially if they are acidic (alcohol, orange juice, etc.) To maximize the lifespan of your countertop paper towels to soak up excess moisture before removing the spillage with a wet cloth.



5. Avoid acidic cleaners

- If you need to use a kitchen cleaner to tackle stubborn stains, opt for a non-acidic product to avoid damaging the granite.



6. Don't lean on the edges

- Although granite is very tough, excessive and repeated pressure on the edges of your countertop will eventually lead to damage. Avoid climbing up on the countertop and ensure children do the same. For the same reason, keep heavy objects away from the countertop edges as much as possible.



7. Use a hot pad for hot pans

- Granite is very good at coping with heat but it is wise to rest hot saucepans and plates on a trivet or hot pad. This is particularly important if you have granite strips rather than whole slabs, since the granite will not protect underlying materials from excess heat.

These tips are very important and easy to follow. Once you have that beautiful granite counter-top, you will want to keep it that way. Choosing carefully and then caring diligently, will ensure that you granite counter-top will remain as beautiful as ever!
About the Author: Romona Weston

Romona Weston and her family grew up in the Canadian Rockies where hiking and camping was very much a part of their everyday lives. She is a mom to 7 beautiful children and a wife to a wonderful man. In her spare time, she loves to hike, write and organize. She is a Web Publisher who started a review blog on the best stainless steel top kitchen carts on wheels and portable kitchen carts. As a researcher rather than a seller, she presents an unbiased view of products.

Explore her reviews at www.kitchencarts360.com.
Visit:


Georgia Farmers Markets
and

Georgia Certified
Farmers Markets